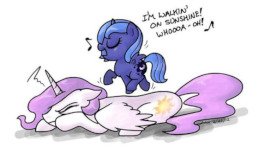 They may be princesses, but Celestia and Luna are still sisters. Sisters that don't get along too well. And, like most older sisters, Celestia finds Luna to be extremely bothersome.
Luna loves her older sister and wants to be like her. But she can't, because Celestia doesn't feel like talking.
---
A collab with Sleepy Panda.
Featured 13/06/15 and 14/06/15
Now has a Reading done by Short Stories
Chapters (1)