Edited by yours truly and set in the Gentlemanverse, a continuation of his previous M-rated stories The Scent of Prey and A Gentleman's Price--which, for those of you who are unaware, involve HiE and some rather interesting predator/prey roleplay... but also a deepening relationship between Richard, a human escort, and Roseluck, his latest client.

It takes place two years in the future after AGP, with Roseluck and her now-husband Richard settling into married life and trying to rekindle their passions which have waned somewhat. And what better way than watching some illicit human/pony porn smuggled in by Lyra? So give Movie Night a try!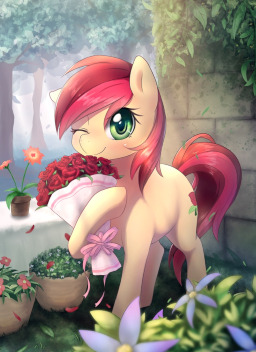 M-rated so available through his story page. He's an up-and-coming author, one I've been tutoring, and his improvement has been impressive over the past year. If you haven't already, give his stories a read!