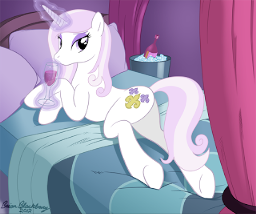 When an unexpected face stops by the Carousel Boutique, Rarity ends up once again smitten with infatuation, but what happens when a dear friend confronts her about her choice in love? As her emotions are forced between two mares, her feelings well up and spill over, but not in the way that either of them expected!
A Rarity and Fleur pairing that dives off the deep end, focusing on the heart-wrenching relationship between them and Twilight as Rarity's emotions are mixed beyond the point of recognition. Written PG-13 for the sake of keeping pace with the story and not loading down the narrative with needless sexual encounters. I hope that's not too much of a disappointment!
This story was being written before Twilight had become an alicorn, so in this story, she is still a normal unicorn.
(The story has since been cancelled due to other projects, however will remain visible for archive purposes as well as a roadmap of development.)
Chapters (5)