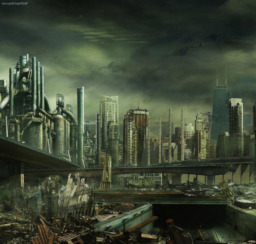 The Commonwealth is saved, the Institute is destroyed, and the Sole Survivor has all but guaranteed the survival of the Minutemen, and by extension, the commonwealth itself. Sadly though, he didn't stick around to lead them into a new age of glory like most of the soldiers had hoped, he chose to go his own way, to continue the fight wherever he saw fit.
This is not about him though, his story will be told another day. Instead, we focus on one of the soldiers he left behind, a soldier willing to take a risk to try and ease the burden on his fellow soldiers, and in the process, ended up in a whole new land that was so similar, yet so different.
This soldier must combat new horrors with a form no longer his own, can he adapt and survive in a land he knows nothing about, or will the Wasteland merely make him another unfortunate casualty.
---
Story will take place roughly about a year before the events of Fallout Equestria
Fallout Equestria is written by Kkat, which I'm sure we all know, but I feel I need to state it anyway so you all know who created the masterpiece.
Also I know, terrible description, I'll think of something better later.
Chapters (2)