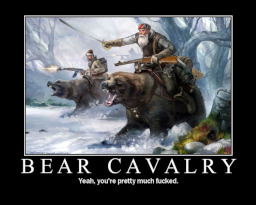 The 1'st Russian Bear Cavalry Unit gets attacked by ponies who attempt to turn the humans into ponies. They inject the serum into all the bears, but are killed. The bears then turn into Ursa Majors and are still loyal to the humans. They then go on a rampage, meet Theodore Roosevelt, and kill every pony on Earth.
Dear Humanity,
We regret being equine bastards
We regret coming to Earth
And we most definitely regret that the Corps just blew up our raggedy ass base!
Chapters (1)