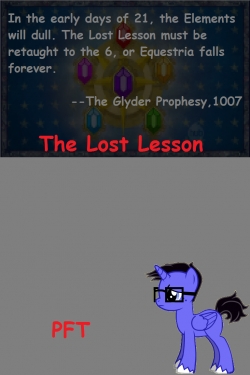 From 1005 until 1008, more than 2,000 griffons were imprisoned in Equestria due to rumors of conspiracy against Princess Celestia. Most "disappeared" during their imprisonment, and only 4 were released in 1008. Their leader, a griffon named Glyder, was the only one to be executed. Shortly before death, he made a prophesy. Referred to as "Glyder's Prophesy," many stallions and mares have puzzled over it for centuries.
What is it referring to? And will they be able to heed Glyder's warning before it is too late?
Image by me. Colt created using generalzoi's Pony Creator (on DeviantArt).
My Little Pony is copyright Hasbro.
Chapters (11)