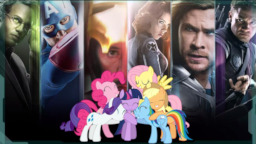 Loki stands on the verge of conquest. His enemies are scattered; their greatest weapons are powerless to stop him. Very soon the Tesseract will open the doorway to an alien army bent on overrunning the planet. Everything has fallen perfectly into place for Loki to bring humanity to its knees.
But when a twist of fate radically alters the events which unite the Avengers, the impending battle for Earth is cast into a little world, an equine world. Now a group of remarkable yet dysfunctional individuals must learn from six colorful ponies that the greatest of teams are forged by the power of their friendships.
"Mane 6 Group Hug" vector in cover image courtesy of Silentmatten. Background in cover image taken from Marvel's The Avengers Blu-ray menu.
Special thanks to a close friend of mine for his continued feedback and support. And many thanks to Lannakitty, my pre-reader.
As of 6/1/2014, this story is 100% approved by Twilight's Library.
As of 9/9/2014, this story is featured on Equestria Daily.
Chapters (6)