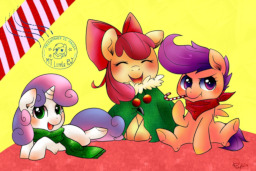 Source
The Hearth's Warming season has always been known as a time of celebration and happiness in Equestria, even in some of its darkest times. On Hearth's Warming eve, amazing things have been known to happen. When their world seemed so dark and unforgiving, even the worst of enemies can put aside their differences, If for only a day.
(A quick, one shot, ponified, version of the old story of the Christmas Eve Cease Fire in 1914)
Cover art by Phyllismi over on Deviantart.
Chapters (1)