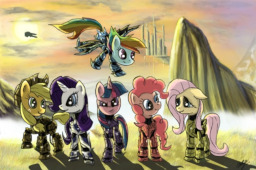 It is the year 2552 and the Pillar Of Autumn has just entered Slip space to escape the Covenant fleet at Reach. A malfunction occurs with the Slip space drive and sends the Autumn and her crew into unknown space. The first planet that comes into range is very Earth like, and is giving off intelligent life signatures. What they don't know is that their only way back home is on this planet. The Autumn dispatches a scout party and what they report back is unbelievable. A world completely inhabited by ponies, millions of them..... Welcome to Halo: Equestria.
I'll add in more character tags as they are introduced in the story.
Cover image is: My Little Mjolnirs: Friendship is Mark VI
by *COBilly
Fan Art / Digital Art / Drawings / Games ©2012 *COBilly
Halo is the property of Bungie and Microsoft.
My Little Pony: Friendship Is Magic, is property of Hasbro and Lauren Faust
I do not own the cover image, Halo, or My Little Pony: Friendship Is Magic.
Chapters (8)