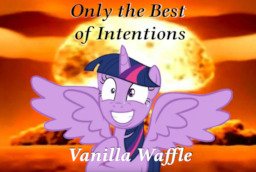 On a particularly normal morning, Twilight Sparkle learns that Starlight Glimmer has been up to time-altering shenanigans again. She claims that she had to stop Rainbow Dash from performing another Sonic Rainboom in order to save Ponyville from catastrophe, but Twilight had seen enough to know how important Sonic Rainbooms are and how Starlight should absolutely never try to stop one ever again. The future of Equestria could depend on it, after all.
However, Twilight's attempts to fix Starlight's meddling only seem to make things worse. So do her attempts to fix her own previous attempts. As well as her attempts to fix those attempts...
Perhaps Starlight had been onto something.
Chapters (1)