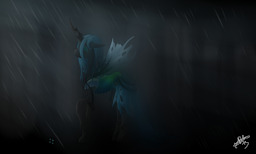 Source
Changelings are viewed as evil monsters hellbent on stealing love and feeding off of it. But how much of this is actually true?
Chrysalis is now a queen of a nearly extinct race as punishment for mistakes she made many months ago that led up to the invasion on Canterlot. This same mistake was influenced by her own weakness, one she must feed on.
Trying to keep this weakness under her mask, Chrysalis travels to the nearby town of Ponyville where she hunts for love for her to sustain herself long enough to find a suitable pony to help her rebirth her race. What she doesn't expect, is to find the Element of Magic welcoming her in, albeit under disguise. But what comes out of this small bud of possible friendship and simple need to feed?
[img]http://fc07.deviantart.net/fs71/f/2014/170/5/2/untitled_1_by_watermane2000-d7n2ul8.png[/img]
Artcover by fiendaffliction of Deviantart.
Originally Bakmah Genesis, but then his life took a bad turn and he couldn't focus on this story anymore. He puts it up for adoption and guess who has it now?
Chapters (3)