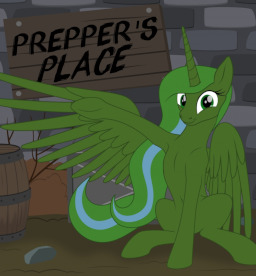 'Prepper', is an alicorn who once saw a glimpse into the future. With a vision of disaster, her destiny changed. No longer believing that no harm could ever come to the world she knows, she began to prepare for an uncertain future.
Now a wandering caravan finds themselves welcomed, invited to come join her in her shop, 'Prepper's Place', as she tells the story of how things came to be the way they are now.
This is an 'episodic' style story that follows the dream one alicorn has of bringing love to the wasteland in her own little way. Revel as she recounts her tales, and buy her bargains at brazenly discounted prices.
Cover art was done by the magnificient Grypher, who can be found on Derpibooru. (No link this time, you might see why if you check!)
---
Authors note: I had planned to keep this hidden until completion (it isn't going to be a long story, I swear!) but the fact that Grypher finished the cover art and plans to release it prompted a change of pace. Current events in the world (a certain virus) have slowed down my writing efforts, but I promise, this WILL be complete before long!
Also of note: although this is set in the same canon as Broken Bonds, the two stories will never meet, so knowledge of one will not affect the other.
Chapters (6)