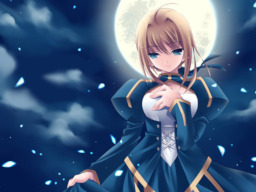 As the Summer Sun Celebration approaches, Twilight Sparkle and the rest of her friends have plenty of their own problems to deal with. Ponyville is packed with tourists, and they've got to work themselves to the bone to make sure things go off without a hitch, and Twilight may just have the most important job of all.
But fate is about to take a turn for the strange, and soon those problems are going to be the furthest things from their minds. A magical ritual has begun in the land of Equestria, and it's not in any of Twilight's books. It's dangerous. It's destructive. And there's no getting out of it. It's called the Holy Grail War, and it's about to engulf the entire town of Ponyville.
Seven ponies have been chosen to be Masters, and Twilight is one of them. The other six could be anyone, which means Twilight doesn't know who she can trust. Their weapons in this war are called Servants, heroes from the myths and legends of a far-off world, and they're like nothing Equestria has ever seen. And this war has a prize: the granting of any wish the victor could possibly desire.
But there are a lot of unanswered questions. Where did this Grail come from? What secrets is it hiding? Who is the mysterious Servant who calls herself Ruler and does she have the answers? Twilight is going to have to figure things out, and quickly. Because this game was originally intended to be deadly for everyone who wasn't the winner, and if she makes even the smallest mistake, Twilight Sparkle might end up being a casualty... or even causing one.
Chapters (13)