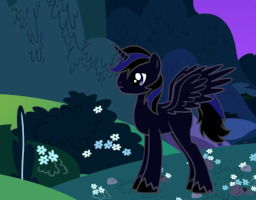 Thousands of years before the return of Nightmare Moon there was a third alicorn. Taken from his older sisters when he was but just a young colt by an unknown force, The young alicorn must face life alone. While he searched and searched for years, he couldn't find his sisters. Years went by and he forgot who he was, his purpose, what he had been searching for. One night Fluttershy has a dream. A dream of a dark presence in the Everfree Forest.
The Prologue and Chapter One shall be revised. They are currently obsolete, but read them anyway it's good feedback.
Note: Tags may change due to story changes. I chose the current tags as a rough verson of what may happen.
Here, some cover art just to piss you off. Enjoy.
Note 2: I own all OCs in this story.
All rights reserved to Hasbro and other pony related products.
Chapters (3)