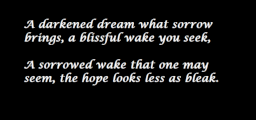 Frigid Flight has failed everypony he's ever cared about. To make matters worse, he's failed himself. He can't change the past, nor can he undo the damage he's done.
When he can't even bring himself to look his loved ones in the eye, how can he fill the gaping void that threatens to consume him?
At least, he can comfort himself, at least his dreams are still sweet.
Chapters (2)