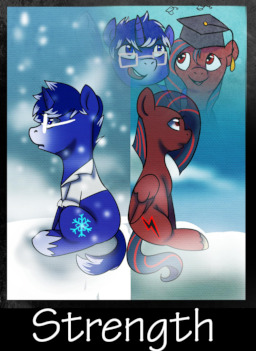 After Frost Nexus lost his father to a strange and unknown disease, it took its toll on both him and his mother. In a desperate need for a change of scenery, they both picked up their roots in Canterlot and moved to Manehatten. Frost, a young unicorn colt, was unsure of his new surroundings, and was very lost in his new home. He then runs into Neon Lighting, a young pegasus filly, and become fast friends.
But as time goes on. Will they stay just friends? Or will they become something much more to each other?
This will be my first story, so criticism is appreciated.
Special thanks to Kodeake for helping edit and pre-read, as well as helping me with the more mushy parts.
Cover art courtesy of the awesome Ms. Kaokay, go check her out guys she's a great artist.
Chapters (3)