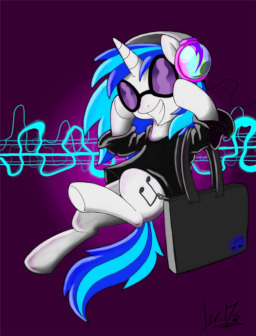 SAPIENT HORSES EMERGING ACROSS THE NATION
That is the common headline that most news stations and papers have these days. It started off small, with only two, then it grew with each passing day with no signs of slowing down. It was like a fanfiction come to life, something that seemed too surreal to be true, but yet was happening right before our eyes.
... Well, most people's eyes, because I was always cooped up in my room playing games. I tended to keep out of current events, usually paying no mind to them while I played stuff like Dark Souls. I would just wait it out until this blew over, as I was sure that everything would be back to normal.
I couldn't have been more wrong about that, as one morning, after having a Skyrim binge, I had the shock of my life when I discovered I was now inhabiting the body of Equestria's Queen of Electronica, Vinyl Scratch. Now, driven by nothing but sheer curiosity, I, Gage LeBoeuf, who was once a normal gamer from Louisiana, must now travel to New York to find answers and possibly a cure to my strange condition.
I mean, it's just a simple road trip; what could possibly go wrong? Turns out, almost everything.
Part of the PonyEarthverse Series. (http://www.fimfiction.net/group/199509/ponyearthverse)
Illustrations done by the amazing Chocolatechilla: (http://chocolatechilla.deviantart.com/)
Chapters (10)