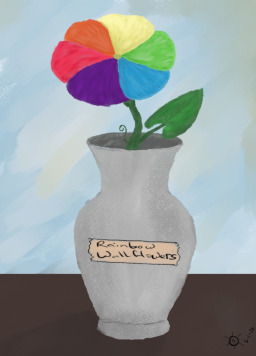 As far as Rainbow Dash is concerned, there can be no forgiveness for Wallflower Blush. She's a memory-thieving witch, and isn't to be trusted. Even months later, Rainbow is still completely uninterested in being Wallflower's friend.
But when Wallflower asks the girls if they'll help her recover a rare flower from the Everfree Forest, the lure of adventure (and a few well-placed words from Sunset Shimmer) convinces Rainbow Dash to give friendship a chance.
Rainbow joins Wallflower on a quest for action, glory, and the chance to 'strut her sick rock climbing skills'. Oh, and to get flowers, yeah.
But the dangers of the Everfree did not stop at Gloriosa Daisy. That which they seek lies in the most remote and gloomy depths of the forest, and it does not yield its secrets without a fight.
They set out hoping to find unique plants.
The forest is more than happy to oblige.
- - - -
My submission for the 2020 May Pairing Contest!
Cover art by me!
Edited Long Description (re-write, stylistic improvements) 6-5-2020
Chapters (3)