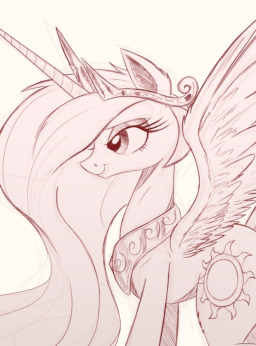 Source
To vanquish a particularly troublesome bad guy Celestia called upon the sun's full power. She and Luna saved the day, but unfortunately the experience left her super-sized. Unable to move about without smashing something, Celestia has been indefinitely forced to sit still with nothing to do. Luna hatches a plan that will hopefully cheer her sister up and even get used to being huge.
--
Just a fun little story to stretch my writing muscles again. Not that there's much to stretch, ha. It pulls heavily from Blobskin's mature story 7 Days of Macro Dreams but doesn't have much to offer in the way of lewd-ness. Sorry, guys - I hope you can dig it anyway.
Graciously edited by Habitual!
Chapters (2)