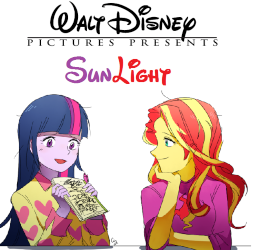 Sunset Shimmer and Twilight Sparkle in Disney related scenes. Perhaps re-enacting them, or taking part in them with their own twist. All one-shots/drabbles are Disney related.
I do not own Disney or My Little Pony.
The 'Other' tag stands in for all characters other then Twilight or Sunset.
A/N: If someone could please give me a link to the original artist for the cover picture, that would be great. I tried reverse searching it but it didn't work.
Chapters (1)