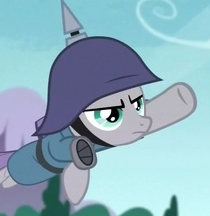 Visiting her sister was nice. A degree in rock science was within her grasp. There was just one last thing nagging at her. She had a mission to complete. It was that time of the month again. Time to pay a visit to the House of Enchanted Comics.
This idea suddenly came to me, and I just had a super burst of inspiration. I'm a big fan of classic 1960's Marvel comics, so this was a joy to write for me personally. Not only that, but I adore Maud, which should be fairly obvious.
I'm assuming there are plenty of other fics with a superhero named Iron Mare (I didn't check) but I decided to stick with the name anyway. It just fit too perfectly. I was considering changing it to Super Maud but I just couldn't get over Iron Mare. Hope somepony out there enjoys reading it as much as I enjoyed writing it!
Written for Equestria Daily's Writer's Training Grounds #12: "While it was nice to meet Pinkie and her friends, Maud Pie must now return to her regular life. She never did let Pinkie know about her other side..."
Chapters (1)