Hey guys! Here is some info on both of the stories that will be coming out this October. For release date wise Thunder will be coming out at least 2 weeks from now, while King of the Everfree will be out either Halloween Eve or on Halloween.
Thunder will be set in the same universe as A New Flame (The same human universe not the mlp universe). I'm planning on making a connected story line with other displaced stories so basically its a 'Zebra Hybrid Universe'. Thunder won't be as long as A New Flame but I'm hoping to at least get a good 50,000 words from it.
King of the Everfree is planned to be my first one-shot or at least three or four chapters specifically for Halloween. I haven't really written horror before but I have experience from other fics. SO I'm excited to try it out, especially since it features one of my Cryptids, Slender Man.
The bios of both stories are below! A little something something for you guys to know what the plots are. Tell me what you guys and gals think. And just as a fair warning things are subject to change, but right now these are the official bios.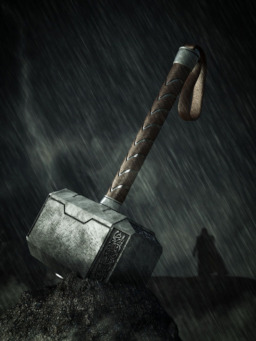 All Marcus had to do was stay with the group during the field trip. Follow the group through the museum, listen to the guide, and DON'T TOUCH ANYTHING! Too bad he isn't one for following rules and immediately grabs the handle of a mystical hammer on display. As a result he is now stranded on an unknown world with the powers of Thor, the God of Thunder.
Oh....and 'accidentally' kidnaps a pony princess. Yeah this isn't his day.
At least the hammer keeps him company....sometimes.
-------------------------------------------------------------------------------------------------------------
Disclaimer
Mjolnir is based off both the Marvel and Norse Mythology versions of Thor. There will be no foalcon! Flurry Heart is nineteen in this story.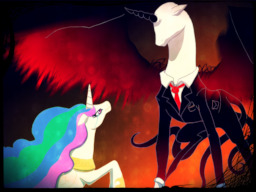 The Everfree Forest is known to be the most dangerous place in Equestria. Filled with Timberwolves, Manticores, and other dangerous predators, well that's what everypony says. What they don't know is that the Everfree Forest is actually ruled by a king who has no face known to make trespassers disappear without a trace.
However when three outsiders discover his kingdom and disturbs his home, he prepares to show the nearby town known as Ponyville what happens when somepony crosses him. It is now up to Princesss Luna to convince this king a more peaceful solution before war breaks out between him and her sister.
Anyways.....it's been a while since she visited her childhood friend.
I do not own MLP or Slender.