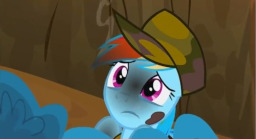 Across the oceans from Equestria, war has plagued the distant continents of Europa and Neighsia. The Axis Powers of Germaneigh, Istallia, and the Empire of Neighpon have been brutally conquering their neighboring nations since September of 1039 After Celestia (AC) while Princess Celestia has vowed neutrality for as long as she possibly could. Six months after Princess Twilight Sparkle's coronation in October of 1043 AC, the fear of entering into the war has finally gone public as tensions grow both internationally and domestically. For the past few months, Princess Celestia and Princess Luna have argued about Equestria's neutral state in the war after Luna ordered a military reconstruction and modernization.
Rainbow Dash, like most Equestrians, worries about the war and is unsure whether or not Equestria should get involved. However, on a bright October day, her life will be forever changed when she meets somepony who has witnessed, not only the war, but something much, much worse...
***WARNING*** Detailed descriptions of warfare and the Holocaust will be present, and historical accuracy is not entirely a priority as the WWII timeline is slightly altered and other early 20th century historical events are mixed in.
Based off of true events, and in the memory of the tens of millions who lost their lives in the Second World War, the Holocaust, Polish-Soviet War, the Winter War, and other events.
Chapters (2)