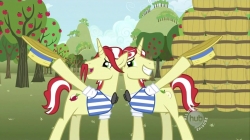 The Flim-Flam brothers are salesponies. They're good salesponies, at that. Throughout their careers, they've done their best to be honest, good gentlecorns. Sure, they've had a few misguided attempts here and there, but at least they always regret the things that they do wrong.
Sometimes, though, ponies have to take shortcuts in order to succeed in life. Survival of the fittest and all that. That's exactly what Flim and Flam are masters of. You might have to be a little bit heartless to succeed in life.
But, hey. It's the business world. It's the real world.
It's marketing to idiots that are stupid enough to fall for schemes and tactics that make them so great at what they do.
Edited by Smayds.
Chapters (1)