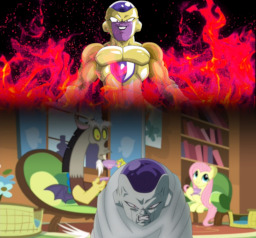 Frieza's short-lived bid for vengeance landed him back in his own personal Hell, forever to regret his failings until the end of time.
Or at least, that's what was supposed to happen.
No god or Kai might have predicted that the place to house the soul of en evil tyrant would prove such an appealing picnic location for a Spirit of Chaos and his pegasus friend. Nor that they might so casually abscond with the pupated perpetrator, in the hopes of reforming him to do good.
Can Fluttershy and ponykind calm the space emperor's furious heart?
...Probably not. But one thing is for certain:
We are the ones who cry out in fear...
~~~~~~~~~~~~~~~~~~~~~~~~~~~~~~~~~~~~~~~~~~~~~~~~~
Note: This is Frieza, a la Chris Ayres' performance. Sorry, Linda Young fans.
Chapters (1)