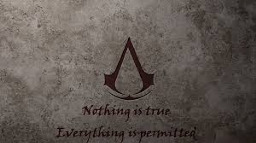 Never before had Equestria been so lost... This takes place after the war, Tirek won and is now the ruler. 3 assassins are on a mission to avenge the death of the princesses eliminate some of Tirek's high ranking officers. Bur what happens surprises everyone.
We work in the dark to serve the light.
Nothing is true, everything is permitted.
I want to thank Sango-4000 and Lord Blaze (I think) for editing my story
Chapters (1)