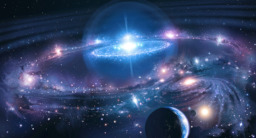 Source
Space is all she has ever known. Naturally, Star Chaser would wind up getting a little lonely after a while. So when she crashes in front of the Hoofington library after a chase with a rift in time, she decides to take a clever young pony along with her on an adventure. But as soon as they run into a Time Pony, and his dashingly bold companion, things go downhill from there are they get in tangled up with Torchhoof, the Celestial Bodies, and what could be the end of Equestria as they know it.
Note- Contains many foreign fandom references, and could be considered a Doctor Who crossover, but won't be listed as such. This will tie in with many other fimfics, including an in-the-making fic 'Torchhoof Chronicles' by zzuxon.
Also, the cover art is temporary- however, I have no idea how long it will be till I get some proper cover art and said art may not in fact come till the sequel.
Chapters (5)