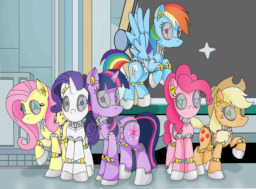 Source
This story is a collaboration between me and Belgian
Dream, just your ordinary mare from Ponyville and a powerful hypnotist, had enough of her everyday life. Constantly trying to cure mentally ill ponies was starting to weigh on her, and thus she wanted to do something more fun. Taking over Equestria seemed a good idea in her eyes. She had always been a fan of power and control, so it was no wonder that she became a hypnotist, but like everypony knows, power corrupts and Dream will experience that firsthoof.
Join her as she and Deviosis, her partner in crime and controller of the minds, try to take on Equestria and implant a new rule in the country. Will their plan succeed and will they become the new rulers of the country? Or will they fail and be banished for eternity?
Warning: Contains hypnosis, mind control, robots, and possibly clop.
Chapters (2)