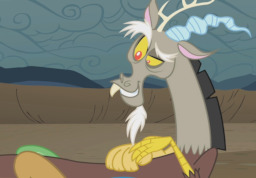 Extra tag: Action
If there was only one thing Discord could hate he would choose boredom, but as you can imagine being imprisoned alone inside a statue is the very definition of boredom. So when Mare Do Well and a strange cat show up inside his mind talking about a different universe where most everypony has super powers(unicorns still have magic) he was intrigued and wanted to spread chaos there. He ends up traveling to this universe in a less than enjoyable method, chaos happens.
(Despite the feeling form the first chapter this world is NOT a complete opposite mirror world though there are some opposites.)
Events happen before Keep Calm and Flutter On.
It might come really close to overcoming the teen rating.
For those who have seen the TV show Heroes, this story is kind of told like that show was.
Chapters (2)