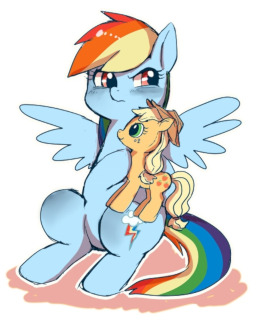 Source
Rainbow Dash is tough, and she's made sure that everypony knows that. She can handle any situation that comes her way with strength and bravery. Well, almost any situation. There's a certain pony that she idolizes, but Rainbow's reticent nature is an obstacle to the admission of these feelings to them. It doesn't help that she has a plush doll of them that she would never want anypony, let alone them, to know about. After Fluttershy has a chance encounter with this pony, she gives them and Rainbow the perfect opportunity to realize how much their friendship means to each other.
---
Author's Note: This story was created with no prior writing experience. Don't expect the quality to be good.
Written as a friendshipping entry to the AppleDash Warm and Fuzzy Feelings Event.
Chapters (1)