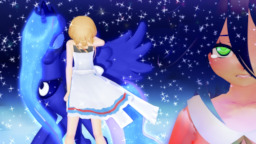 ***Spoilers for The Witch's House***
Viola had her body stolen from her by her former friend; a witch named Ellen, and was left alone to die. With nothing left but her soul to lose, Viola uses the last of Ellen's magic to transport herself to a place where she can die in piece. She finds herself in the land of Equestria and is unexpectedly saved by the worlds inhabitants.
How will Viola cope with being forced to live in the body of the friend who betrayed her? Will she accept her new life in Equestria, or will she only be more determined than ever to get her old life back? And most importantly of all, will she be able to regain her full trust in the magic of friendship?
Chapters (1)