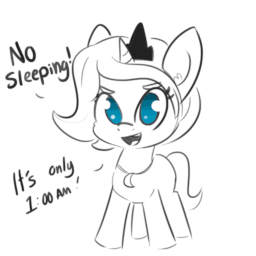 Since forever, Princess Luna is up every night while other ponies are asleep till sunrise. The filly has a plan to keep herself entertained, but finds it difficult to find even one pony to stay up a little later and help. After one night of being truly on her own, high emotions would be the catalyst to her finding something special in being the Princess of the Night.
---
Image was borrowed from Deripbooru at 1692049
Future plans: This is a full story, but a sequel's planned that goes into more nsfw territories.
Chapters (1)