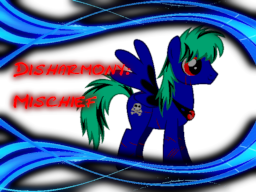 A Thousand Years Ago, before Starswirl the Bearded & the Pillars had vanished with the Pony of Shadows. The greatest unicorn had made many predictions about the fourth generation of Equestria. So in a very desperate move, Starswirl had chosen me to help him protect Equestria. My name is Caizo Haze (Kaizo Haze), and for thousands of years, I have protected Equestria from multiple evil threats, that nearly almost turned Equestria upside down. I had help from many different friends, and my brother, Tech Wire.
My brother, Tech Wire, has a battle of his own, and he has to fight his best friend who was driven by madness and revenge. My brother's friend and mortal nemesis, Gransion. Against all of his logic, my brother, Tech Wire, had gotten help from me, his friends, our father, Technic Cell, and our mother, Love Wire.
But now, things are going to change. From my past and from the future, the same multiple evils that I have faced thousands of years ago, are emerging in different locations of the present days of Equestria. And all they are is hiding in the shadows, manipulating other villains, and they are patiently waiting to strike. It's now up to me to stop them all or die trying.
Chapters (1)