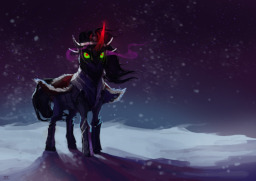 Sombra wasn't always evil. he was once a normal colt with friends, family... he had everything.
Then he discovered his talent.
and just like that, his world was turned upside-down. he's been run out of town, his friends and family now fear him, and he's being hunted by Princess Celestia.
it's though these events that Sombra would become the evil and horrid Stallion we know him today. and how his rise will change a lot of lives...
and the Universe...
Chapters (7)