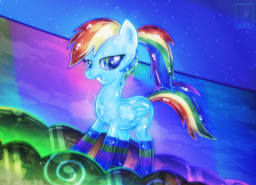 Edit: The first few chapters need to be reworked; if you think they're of slightly lower quality, it's normal since I wrote them ages ago.
When the fate of a whole universe rests on the shoulders of six ponies, most would say that the universe in question wouldn't last much longer. When one of those ponies is emotionally unstable, things don't tend to look up very quickly. When you add humans into the mix, the situation only seems to get worse. Now though, could things finally be looking up?
This is a story about a human who is teleported to Equestria by mistake, but ends up staying after he hears the plight of the ponies. It turns out they need the help of a human if ever they want to gain their freedom.
Featuring a dramatic love story, a twisting plot of hopelessness becoming hopeful, and a war brewing in Equestria.
Edit: Oh yeah, and we're in between seasons 2 and 3.
Chapters (18)