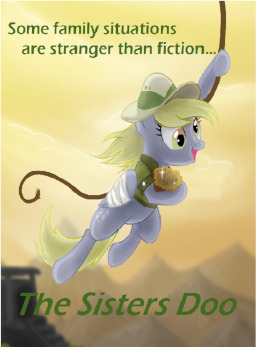 Source
Adventure
Comedy
---
Daring Do seeks a favor from her sister in Ponyville. Due to buried grudges, things quickly get out of hoof. She soon finds herself on her most perilous mission yet... with her biggest fan in the world. In the midst of truth and lies, loyalty and treachery, love and hate, one thing is clear - some family situations are stranger than fiction.
The story extends in
Through the Looking-glass and What Pinkie Found There and
The Daughter Doo: Honorary Cutie Mark Crusader.
Many thanks to Honey Mead and statoose for their watchful and helpful pre-reading.
Ckat_Myla and statoose (CatNStat) have started an excellent reading of TSD.