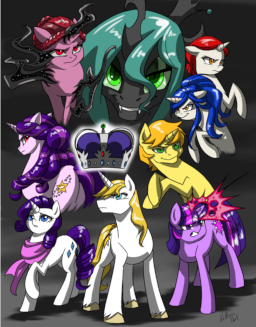 Source
Romance
Dark
Comedy
Adventure
Alternate Universe
---
This story is a sequel to
The Best Night Ever
---
Final Arc - The Black Wedding
CH58 - Endless Twilight
- Twilight Sparkle recalls her fateful meeting with the supposedly deceased Lady Arsenic. The fate of Equestria is in her hooves and her gamble that the titanic gender-swap spell will nullify changeling shape-shifting. Yet she is unaware that Euporie is also planning to unleash her own spell...
---
It began with a mare from Ponyville and a time-looping Prince from Canterlot. This most unlikely union now stands at a crossroads: a ruthless changeling invasion; a conspiracy within the highest circles of the Equestrian aristocracy; a half dozen power hungry noblemares looking to become a Princess in all but name. With the prize of Canterlot and its Platinum Crown at stake, it falls to six Elements of Harmony to once again save not just Ponyville, but all of Equestria.
--
--
TVtropes page is here: link
The prequel to TPC, "The Best Night Ever" is here. link
The side-story crossover with "Sweetie Belle Chronicles" is here. link
I've gotten some cool TPC related art done, too.
So Sweet and Tasty's TPC Cover Art
Thanks to Madmax for these two:
Rarity, Blueblood and Antimony
Dash and Ritterkreuz
The Terre Rare Founder - Lady Arsenic
Twilight and Alpha Brass Battle Duet