Howdy, folks!
So, semicolons.
It's been a while since I've written any blogs about writing advice or whatever, but I've been thinking a lot about semicolons lately. Why? Because I'm the most interesting person on the planet, obviously. Marvel at how much I have going on in my personal life. Marvel.
Anyway, semicolons, right? They're pretty weird. Of punctuation, they're the mark that has the stereotype that nobody knows how to use them right, so you see tons of guides everywhere explaining their rules, complete with silly example sentences and little graphics that anthropomorphize punctuation marks.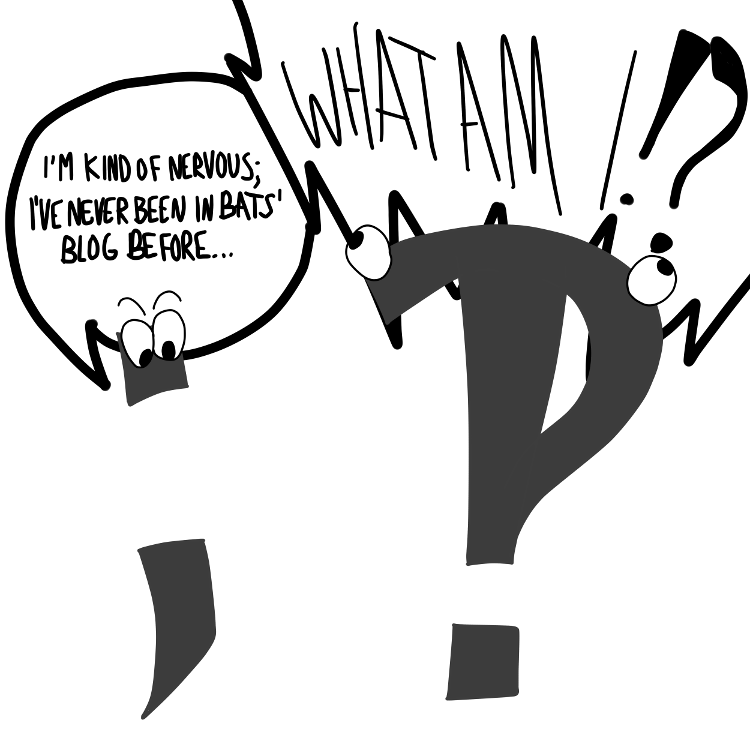 (Interrobangs are always bewildered; it's canon)
And how to use them is certainly important, but the thing I rarely see covered is why to use them. I mean, the obvious answer to that one is 'When it's proper grammar to do so,' but we're talking about fiction writing here. This is a field where people can and do discuss a variety of stylistic choices, the rules don't necessarily always apply the way they do in technical writing, and making the decision when editing for grammar is far less clear cut. So let's dissect some thoughts about semicolons.
Just to get it out of the way, here's a quick refresher on the rules for semicolons. Semicolons are used when:
(1) Joining two independent clauses when there is not a coordinating conjunction, or
(2) Separating complicated stuff in a list and commas wouldn't be clear, like if each 'item' would have commas in it already.
Since everybody loves it when you get all grammar teacher with them, an independent clause is something that is a full sentence on its own (ie it has both a subject and a predicate), and a coordinating conjunction is a word that links two clauses without changing either phrase's importance (the list of coordinating clauses is for, and, nor, but, or, yet, and so; you just need to remember the acronym FANBOYS). The second part is less important in fiction writing, because how often are you going to list things like New York, New York; Chicago, Illinois; Los Angeles, California; and Seattle, Washington in fiction? So really, all we need to worry about is the whole 'joinin' up two independent clauses' thing.
So to finish off the refresher, here are two independent clauses, how they can be joined, and how they shouldn't be, speaking strictly from the rules of grammar:

Rundown: first is right, because both independent clauses are complete sentences with subjects and predicates; second is also right and the basic correct usage of a semicolon, joining two independent clauses; third is an example of two independent clauses that happen to be joined with a coordinating conjunction; fourth is a more 'off in the weeds' example of the semicolon rules, because although 'consequently' seems to function like a coordinating conjunction, it's actually a conjunctive adverb, and two independent clauses with one of those get separated by semicolons; and the final is wrong and this type of error is called a comma splice.
There, wasn't that fun? No? Yeah, grammar be boring, yo. I at least put asses in it. You're welcome.
Anyway, so we've answered the question of how to use semicolons for the umpteenth time, let's get into when and why to use them. All of those examples up there are correct (except for the comma splice, anyway) and could be used in a story, so which one should be used?
Well, here's where things get subjective and messy. There really isn't a right answer to the question. This is, however, where things start getting kinda interesting to me, because it's where we start breaking into the intention and readability of prose. Every choice could be used, even the comma splice, dependent on how it's being used inside of a story.
(Plus there's always the choice to rewrite it as a single sentence without separate independent clauses: Applejack likes hugging Twilight's squishy ass.)
Stepping back from the fact that our independent clauses in question are kinda crap for actual prose and instead pretend we're working on actual fiction, just knowing the rules for semicolons is only part of the battle. When it comes to making a decision on which form to use, there are a few things I try to keep in mind.
Semicolons are awkward.
Okay, so, I totes explained how semicolons worked just a few lines up. Did you need me to do that to follow along? If not, are you a weirdo who actually likes grammar like me? And if you did need the refresher, how many times have you looked at the rules for semicolons before this blog? Will my explanation stick with you for any impactful length of time after you wander off to other, probably more interesting blogs?
I'd wager that a couple people at this point have already forgotten the rules beyond a vague understanding.
Because that's the thing with semicolons, they're not used very often outside of technical writing. Most people aren't super familiar with them, don't need to be familiar with them, and put them out of mind for most of their waking life. Running across one is often distracting; you read a sentence and stop for a moment because there seems to be a comma that stole a period and is flaunting its theft smack dab in the middle.
This is a really big consideration when writing fiction.
Immersion is a very important quality to prose. Breaking the flow of a piece can really hurt its impact in a reader, because they're losing the thread of what's going on, if only for a moment. Some flow breaks are entirely intentional, mind you. Sentences, paragraphs, page breaks, and chapter breaks are all mechanical disruptions to flow that are made intentionally. There are non-mechanical ones, too; a funny line of dialogue that makes a reader laugh, or a beautiful, evocative passage could make a reader need to blink away the tears are things that break up the flow of a piece. Those are (hopefully) intentional breaks, too. Evoking specific reactions in a reader alters the reading pace like this all the time, and it's a tool many writers cultivate through practice and experience.
Making a reader pause for a moment because they see a semicolon is not something people cultivate, though.
…That whole section could be read as 'readers are stupid,' but just to be clear, that's not what I'm saying. Unless a reader is as intimately familiar with the use of semicolons as they are with commas to where seeing and using one is truly second nature, pretty much everyone is going to have a moment where they consider a semicolon as they come across it, even if that moment is close to imperceptible.
This isn't necessarily something that Must Be Avoided At All Costs, but it is something to think about when picking how to join up two shitty independent clauses about hugging asses. Maybe knowing that you have a built in reader-slower-downer moment is something you want in a sentence to make sure everyone's really picking everything up. As I said, it's not a universal negative. Just something to keep in mind.
The nitty gritty of the paragraph.
This one is a bit harder to talk directly about, because it gets into actual instances in a story, so talking shop in a general manner is difficult. To ruminate holistically for a second, a single sentence is never an island and it's hard to judge its quality and value without any context. A sentence is surrounded by a paragraph, which is surrounded by the other paragraphs that make up a scene, that's part of a chapter, that's a piece in a whole story. A sentence that's beautiful, evocative, and perfect in one story might come off as maudlin and distracting in a different type of story.
So from that perspective, if you've got a paragraph that's got, like, three sentences in it that all have semicolons, something's gone pretty wrong (or you're me, a jerk, and writing this blog, all at the same time). Number one because, as the aforementioned point covered, you're probably causing a series of reading hiccups for most of your readers. But also your sentence structure could probably use at least a little bit more variation to break up the monotony of semicolon-linked independent clauses over and over again. Varying sentence structure is one of those general pieces of advice that's really hard to unpack and consider as universally good or bad advice, but the intention of the advice itself is concerning reading flow. Really monotonous sentence structure will jar a reader out of a story if it's noticeable, and having semicolons all over the place is definitely going to be noticeable.
But even outside of that really specific hypothetical, it's still a good idea to consider where it's hanging out in a paragraph. If you have lots of sharp, short sentences that give the paragraph a fast pace, maybe you don't want to interrupt that with a semicolon. Or maybe you do, because you're switching pacing gears. Or maybe the use of a semicolon won't interrupt the pace at all; two relatively short and clipped independent clauses joined by a semicolon tend to read as even more abrupt and clipped.
As I said, this one's hard to talk about concretely, but it's probably both the most important and most 'well, duh, bats,' consideration. Of course you want to be paying attention to what's going on around a sentence when editing it. But when it comes to semicolons, it's easy sometimes to just want to check to make sure you used one correctly and move on.
People talk in comma splices.
So I mentioned that using the comma splice might be appropriate in fiction, and this is what I was referring to. Dialogue. Even getting outside of characters that have accents and verbal affectations, most people aren't talking in proper sentences. Conjunctions get dropped, subjects are implied, they lose track of what exactly they're saying, they stumble over their own words, they change their mind halfway through a sentence about what they actually want to say. This happens all the time in speech, and correcting the grammar for a character like Rainbow Dash is going to result in it not ringing true for her character; you wouldn't make sure that her sentences don't end with a preposition, y'know?

Leaving a comma splice alone in dialogue does a couple things. One, it keeps the dialogue feeling breezy and informal, which often is very appropriate for a character speaking. Two, most people won't notice that it's a comma splice in the first place, so the pacing will stay fast and hopefully in character where a semicolon might break immersion.
It's not always the right choice for dialogue (more on that in a moment), but it's not something most readers would consider a 'mistake' when it is used. When in editing mode, it could be easy to get concerned with the number of comma splices that turn up in dialogue for a lot of characters, and fixing the grammar with semicolons could lead to a major readability problem, and might make you consider rewriting chunks of it to have different structures that wouldn't have a splice. Which might be a good idea, but it might also lose some of the voice of that character.
Semicolons feel sophisticated and/or old fashioned.
So aside from feeling awkward, the other major feeling a semicolon evokes is poshness. Grammarians and snooty people are the type who use semicolons, and this association is something to keep in mind. It can be a negative; getting a sense of posh from Rainbow Dash's dialogue is probably a mistake. It can also be entirely positive. Rarity probably speaks in semicolons, and Twilight might, too, especially when she's lecturing. And it's something to think about outside of dialogue, too. A somewhat purple description of a setting might be enhanced with a decadent semicolon. It could run the risk of being 'too much,' too, for that matter, but that all depends on the situation.
This is certainly a smaller consideration than a few of the others, but I do find it comes up more often than you might expect. The last thing I wrote ended up having three semicolons in it, and all of them were in the dialogue for a single character, who is both a bit pompous and also kinda prolix. Seemed fitting.
So, in conclusion, semicolons. Kinda weird, right? So when should you use them? Man, I dunno. When they're appropriate, I guess.
That'll wrap this one up; TTFN.