Hello, dearest reader.
When I left you last, I entered a fanfiction contest, the first time I'd ever tried such a thing. To me surprise and delight, I did quite well. Lovely!
But before I start laurel sitting and letting my writing muscles atrophy again*, I've moved on to the beginnings of my next project. For once it's not sad! ...Probably!
The project? Well, I already did a Diamond Tiara story. So, naturally...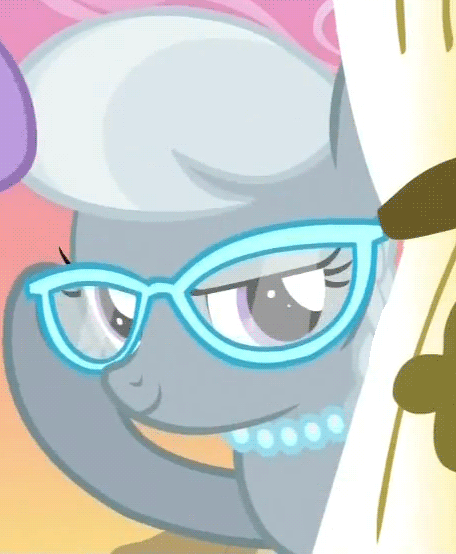 I'm reviving/reworking what is technically my first pony fic: The Silver Standard. Written in tiny rough draft pages that spun its wheels into nowhere until after bad luck and three additional FiM seasons it quietly curled up and died.
I wasn't planning on reviving it, but I had three ideas for a Silver story and in the end decided to combine all of them and just make a multichapter fic. Amusingly, the plot I have now is literally the opposite of the original Silver Standard in every way except the barest bones of the plot.
What is that plot? Well. That would be telling.
But I will say this: some people that believe that Silver Spoon is a demure pushover who secretly yearns to be a Cutie Mark Crusader and is only mean because Diamond "Drowns Puppies" Tiara made her.
I am not one of those people.
Proposed Upload: April 11th
Planning/brainstorming/outline is done and I've finally got my rough draft moving at a decent pace. I'm doing my best to believe it's not as ugly as it feels and even if it is, rough drafts are meant to be ugly. All a rough draft needs to do is exist. I hope to be done with at least the rough draft before season five hits.
Until then,
Patchwork Poltergeist
*If you ever remember anything from me, remember this: you writing muscles WILL get flabby if you don't exercise them. The longer you wait between projects or chapters, whatever, the harder it is to start again. The best thing you can do to get better, to get faster, to get stronger as a writer is consistency. I don't care if it's your current project or a side project or a blog or school essays or a journal. Write something. Anything. It helps. If nothing else, it'll get you used to putting words on a page, and eventually the terror of the blinking cursors or empty lines will lose its bite. ...Some of it, anyway.