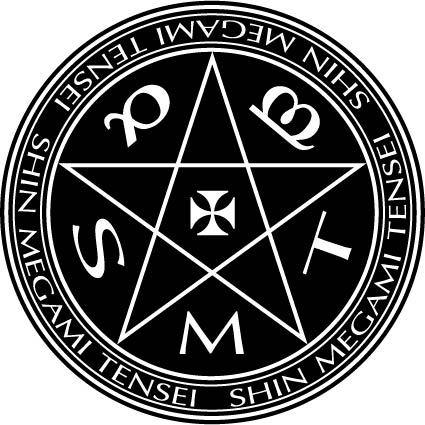 ... How many of you recognize THIS symbol? I ask because, well... I'm almost done with finals!
About, freaking, time.
So, anyways, I'm hoping to get back into writing again soon here, after I've rested up a bit. I'm hoping to do A LOT of stuff for A Cog in the Machine, because I haven't done so in a long time AND because it IS almost one year old here (holy crap does time fly 0_0)... but I'd also like to try to create a bunch of new stories as well!
... Preferably ones that don't take for-freaking-ever to write, edit, then read... hehe
That having been said, I already DO have a bunch of ideas, I've even shared some of them with you in the past! Some are comedy, others are slice of life... but now lets return to the subject of the symbol.
I want to make a Shin Megami Tenshi Adventure story...
... cuz it's currently taking up as much space in my head as ponies usually do
During these last three weeks of HELL, I've taken to replaying some of my old handheld games in order to release some stress. I've had a 3DS XL for about six months now, you see, but only had two 3DS games, thus it wasn't getting a whole lot of attention. Because of this I decided I'd cracked open my DS collection and re-fall in love with some JRPG classics, which I did... now I want to combine them with ponies.
So, my question for all y'alls is this: Are there any SMTXMLP stories out there that I should know about/read before I potentially waste my time on this venture? Also, this WON'T take over A Cog in the Machine, in case you were worried. This will supplement ACitM in the same way A Rare Scoot was supposed to. Unlike that story, however, I actually have my idea penned out in advance this time here where in with that one I decided to wing it... which didn't end well... or at all
I hope this will be something you guys will be interested in~
-Derply
EDIT: On second thought, I think I'll just take Trikdom's advice and just write things as they come to me, not if it's a good idea or not. Stressing about it is no es bueno ^_^