Links in email sent before the 27th (through our old email service) will no longer function. This will not impact any newer messages. We apologize for any inconvenience this may cause.
[hide message]
Ad Al When an ancient evil re-awakens and makes its presence known among Equestria, it's up to Princess Twilight and her friends to stop it. But how can they fight what they cannot see? · OmegaObelisk

15,695 words · 299 views ·

gore

·

Ro Sa Life hasn't been kind to Rarity. Now, with almost everything lost, Rarity turns to the only person she has left. But does Sweetie Belle have room in her life for Rarity? · AdmiralSassMcAwesome

3,251 words · 754 views · 28 · 6 ·

Ra Fluttershy acquires large breasts in the Everfree Forest. · Servomoore

3,830 words · 15,055 views · 44 · 22 ·

Ad Al Cr Hu A new creature has arrive in the world of Azeroth; one never before seen, spawned from the Arcane Anomoly that enveloped Theramore Isle. And now, even in her unusual state, she must find her way in the World of Warcraft. [Set before MoP, after Cata.] · Prisoner 24601

1,018 words · 222 views · 15 · 4 ·

Co Sl Rarity has the terrible disease diabeetus and Sweetie Belle's presence isn't helping. · Servomoore

2,608 words · 1,176 views · 40 · 2 ·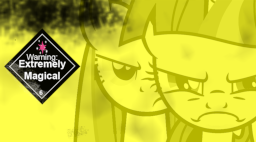 Adventure
Comedy
Dark
---
The story of how an overqualified dying princess became a drug lord.
Proofread by Benny Brohoof.