I had meant to write a blog post that tortuously wound around to the tagged story, but while I was typing, I got a PM:
Illya Leonov has just posted a lovely reading of Quiet Boy and Moon Horse. Illya's smooth, deep voice is a beautiful complement to the fic, and I'm in awe that my story has now moved enough hearts to spawn two fantastic readings from top-tier audioreaders.
(The rest of this ends up relevant to QB&MH too, I promise.)
---
I just had the most amazing two-hour conversation with darf (in a way that might surprise people who are fans of his porn but not his poetry). We have both, it turns out, had a pretty eventful year — darf moreso than I — and in the course of catching up on that, our conversation ranged through identity and metaphysics in a way that I'm probably going to be unpacking for a while.
Take, for example, the question that was posed to me in the context of explaining some of my hallucinogen experiences: "Do you consider yourself a contrarian?" I don't. I really don't, but ... "I would say no," I responded, "except for the fact that just last night I put away the overcoat I wear to conventions, which has two buttons on its lapel ..."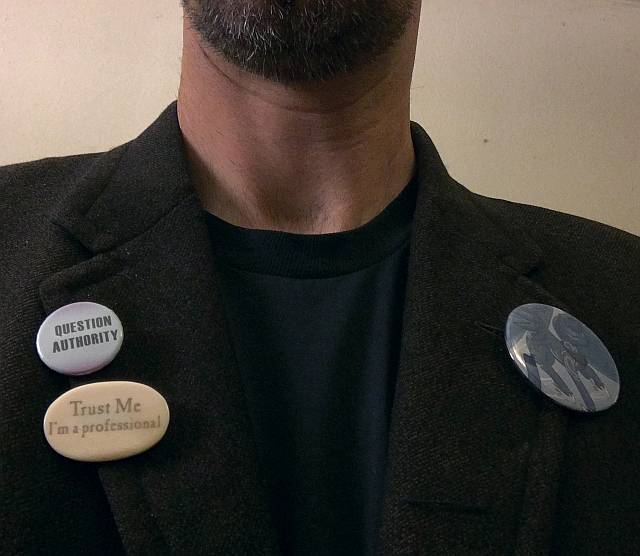 "Professional Authority Questioner" is the best job title
I'm not a contrarian at heart, I tried to explain. I'm a trickster. Sort of? But I've never felt comfortable being pigeoned in that hole, because I've got too much empathy to wholeheartedly embrace the archetype. Regardless, there are a lot of aspects to that path that do resonate with me (*). I'm sure this is no surprise to anyone who has read my inaugural Pony Fiction Vault feature or my infamous Writeoff causality-breaking meta-entry, but I love subverting expectations and broadening people's horizons.
I should add, relatedly, that I'm a hobbyist Tarot reader ... but I'm much better at it drunk than I am sober. (That's not just my opinion, that's the assessment of pretty much everyone I've read for.) This is because when I'm sober, I take it seriously. Getting drunk allows me to set aside the inner editor that normally keeps a tight filter on what I communicate, and go into a state that is nominally stream-of-consciousness but more "maximum bullshit mode". It becomes a sort of interactive performance art, spinning a narrative out of the cards and the shreds of context I wheedle from my mark victim client, cuing off of weird associations just to keep the yarn spinning, freewheeling and twisting and dodging through the threads of fate until I've accidentally woven a tapestry behind me.
(And sometimes when I open myself up to fate For Entertainment Purposes Only™, the joke's on me, and that's amazing and hilarious.)
Anyhow: so it was, as darf and I wound down the conversation, I found myself slipping sideways into Maximum Bullshit Mode and proclaiming (with the mischievous certainty of someone painting himself into a corner to see how he'll escape this time):
"Illusion and authenticity are not necessarily incompatible."
"Whoah," darf said, and said he was looking forward to hearing me justify that, and I think I kind of am too.

However, as I was thinking about what sort of argument I could make to back up that statement, I realized:
I've already written it.
Quiet Boy and Moon Horse (which, to close the temporal circle here, Present Perfect just reviewed and highly recommended) is a story that has received both praise for its raw power and confusion over its theme. As PP said: "Honestly, at the end, I'm not sure what this story is about — the power of imagination? Positive thinking and totems as a means to overcome hardship and mental illness?" Titanium Dragon's review disagreed: "At its heart, this is fundamentally the story of a young boy seeking solace in a fantasy, trying not to be unhealthy about it, but failing at that anyway, and the joys and struggles it brings him." For my own part, I was too busy arguing that it simultaneously is and isn't a pony story to address the question.
But if I can put on my Author Face for a moment, the core of this story isn't about whether Quiet Boy is wrong or right, healthy or unhealthy — it's about a deeper statement, one which most succinctly crystallized in one of the story's later conversations:
Her smile fell a notch, then stabilized and crept back upward. "Come on," she said. "We both put in an awful lot of work for [this to be] a fictional relationship, don't you think?"

"That's because …" He flailed for words. "You're important. Fictional but important."

He felt a phantom pressure at his side as she settled in against him. "Am I now?"

"Of course you are. Look at all the ways you've changed my life."

Moon Horse smirked. "I meant, do you really think I'm fictional, but I think your last sentence answered that."
Quiet Boy is making a distinction here that Moon Horse doesn't buy. However, I do — and I submit he's right to make it, and Moon Horse's sidestep is an example of her failing him. It's absolutely no coincidence that that is the scene in which their relationship fractures.
"Fictional but important" is such a crucial concept, not just to Quiet Boy and Moon Horse but to fiction in general and human life in general, that we have a word for it: Mythic. A myth is a fiction that matters. A myth is a fiction that changes lives, and thus, transcends mere fiction to become something that is real in effect if not necessarily origin.
You can't reach out and touch a myth. It's illusionary. But it reflects something inside of us, something important and true — and the stories that we turn into our personal myths are the ones that define us, and the ones that act through us to literally shape the world.
When a brony pauses before cussing out a customer after a long day at work, thinks "That's not what Fluttershy would do," and takes a deep breath before speaking with a smile, fiction has made the world a better place. When we weep at a story we read, because it has provoked a healing catharsis or pushed us out of our comfort zone or triggered some empathy that leaves us determined to help someone in similar straits, fiction has made the world a better place. (That, I think, is the highest possible goal of fiction.) That's not to say all myths are positive — "nobody cares about me" is a fiction that has ended a terrifying number of lives — but there, again, is an illusion (with no more basis in physical fact than Fluttershy or Moon Horse) that has become so real that it overwhelms facts, and changes the world more effectively than things we can point to or touch.
That's the kind of power our myths — our illusions — can have.
And when that intersects with identity ... I don't think it's a stretch to say that the stories we tell ourselves about ourselves are, in a fundamental and literal way, us. I call myself a dragon; you might call yourself an author or a student or a Republican or a husband or an atheist, but in the end all of those things tell us what we value in ourselves, and that's about story, not fact.
For example, a college friend of mine identified sincerely as Jewish, despite the fact that he made a point of celebrating Passover by eating a ham-and-cheese-on-matzo-bread sandwich, breaking as many Jewish dietary laws as possible: how is that identity anything but factually false and yet fundamentally correct?
(Contrast with something that is merely factually true: You and I are both biological machines that run by processing organic matter into poop, but I'm pretty sure nobody in the history of ever has built an identity as a poop-generating machine.)
That's the distinction I was getting at with illusionary and authentic. "Illusion" just measures factuality, and factuality is an awfully poor yardstick when it comes to authenticity. Often, the best way to be true to yourself is to be true to the stories about who you try to be.