Howdy, everyone. First and foremost, as always, Adorable Applejack: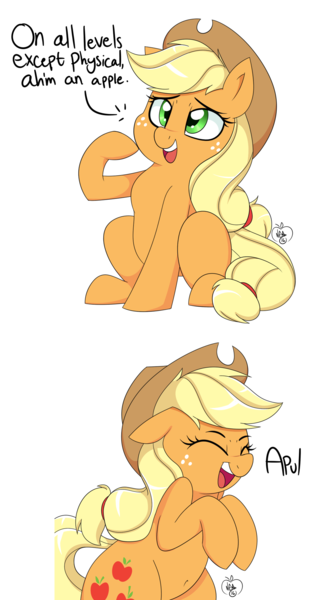 Don't deny Appul her identity, Shitlord.
Anywho, I've been quiet for a long time now. Sure, I posted a bit about Horsecon 2016, but beyond that, I haven't been very... sociable recently. And I damn sure haven't been writing, aside from that one chapter of Princess Twilight Takes a Walk... which took me a good six months to finish 1,500 words. Well, there are good reasons for this. My life has been in a serious state of flux recently. A lot of moving parts have been shifting like crazy in the past few months. I'll endeavor to give you the TL:DR version. but even that is quite the tale.
As some of you may know, I've never exactly been the paragon of mental stability. Sure, I'm not sitting in the corner making sand castles with my poop or thinking the King of Sweden is using my penis as a radio transmitter to send anti-Semitic lesbian meatloaf recipes to Soupy Sales and Marvin Hamlish(props to the two or three of you who got that reference), but I'm still pretty screwed in the head. And most of this is the Army's fault, in at least some fashion. But in the past few months, my condition has taken quite the nosedive. I'm sure you all remember my little excursion to the Arizona desert for some much-needed treatment. Well... fat lot of good that did. All my problems were still sitting, waiting for me when I got back. How bad has it gotten? Well, I need pills to help me sleep, and I take a cocktail of three different anti-depressants every morning just so I can function without curling into a ball of nerves and sadness throughout the course of the day. Sure, this keeps me functional, but it has the pleasant side-effect of leaving me all but numb to the world. Sure, I don't feel sad anymore... because I barely feel anything anymore. Wheee.
Of course, the Army has finally taken notice of all this. All possible treatments have been exhausted, as far as they are concerned. This means Big Army has decided that I am no longer capable of doing my job, nor effectively leading and training soldiers which, as an NCO, is my ultimate purpose. Also, they have decided that I can no longer be trusted to carry a weapon safely, be it a risk to myself or others. What does this mean? As of October 20th of this year, I am being medically retired from the Army.
That's right. I will no longer be "The Army Guy."
This in and of itself is scary. I mean, I've identified myself as a soldier for my entire adult life. It's been a core tenant of my personality since I was 18. Granted, I have disliked most of that time. Indeed, 90% of my military career will fall into that ever-increasing bin of "Shit I try not to think about." But still, I've always had that. Whenever I came home, it was an event. My whole family would at least slow down what they were doing to accommodate me. I was a part of something greater than myself. I've had purpose, direction. Now? Well... I'm not, and I won't.
However, while I had the chance to fight this... I didn't. I know that I am not an effective soldier anymore. If I stayed in against the recommendation of the doctors, it would mean the downfall of my career. I would likely get negative legal action due to my performance, lose rank, and eventually get a simple chapter. For those not in the know, that basically means the Army says, "Thanks for playing," give me a swift pat on the bottom, and sends me home with naught to show for it. This way, however, I will be taken care of. I have a decently high disability rating from both the Army and the VA, so I'm not going to be on the streets and destitute. I'll be alright. Sure, it sucks that my entire life plan has hinged around me staying in for 20 years, and I only made it 13, but this is literally the best thing I could have hoped for. I honestly thought I would be given a single lump sum and sent home, but this way I'll be getting a check every month for the rest of my life.
So, what's my next move? Well, I've decided to give a go at Long-haul Truck driving. Yes, driving an 18-wheeler across the country, hauling freight.
Coming soon to a street near you...
I mean, I like long distance driving, I enjoy solitude, and I want to see the country. Sure, it'll be passing at 60 miles an hour out the window, but still. I've only ever been to five states. I want to see more. I want to be able to say that, "Yeah, I went to Boise, Idaho, and Bumfuckistan, North Dakota." Of course, nothing can ever be so simple for me. I've only just recently taken notice of that little label on the side of my plethora of pill bottles that all say "Be careful operating heavy machinery." I've sent a list of my meds to the recruiter for the company I want to work for, Prime Inc., and am currently waiting on the response. Hello, Sword of Damocles, Nice to meet you. Keep it together, Jake. Keep. It. Together!
So, what does all this mean for writing? Well... everything. Remember how I said I was numb all the time? Well, with that comes a ever-present lack of motivation to do... well, anything. I don't even play video games anymore. I sit and watch speed runs and Let's Plays. Yes, I sit and watch other people play video games. I still constantly think of my stories, act out future chapters in my head, talk out conversations, but I can never link the beginning, middle, and end. Seriously, I have the endings of both Beholder and Princess Twilight, but for the life of me I just can't link them together with what I have now. But even beyond that, I just... don't feel like writing anymore. I fear that writing was just something I did for a little while and have moved on from. A huge part of me wishes I had never published my two current stories, because I can not help but think that I've let everyone down who enjoyed what I wrote so far. I know, I know. I can already sense the flood of comments telling me that isn't the case. But in my jacked up mind, Knowledge matters little. It's like my fear of spiders. I know that little spider in the corner can't possibly hurt me, and that it even keeps bugs away from me. However, the logic of it doesn't stop the emotional response, which is to set my house of fire and leave the state. Furthermore, if I do get this trucking job, I'll be on the road for weeks at a time. That leaves very little time to write, even if I wanted to.
However, at the same time, I am hesitant to label them both as "Cancelled." I don't know why. Maybe it's me not wanting to let people down, maybe it's the possibility that hey, someday I may come back. Maybe it's a foolish thought. Iunno.
So... that's it, really. Like I said, a lot of heavy shit is going down. My terminal leave starts on September ninth, so between now and then it's all finishing paperwork, getting all my stuff packed up, and preparing to move back to Houston. I... don't really know what else to say. I'm still on the site, even if I don't blog or write. I read the occasional new fic that piques my interest, and of course, I'll be ever farting eastward for as long as the train runs. I still say that aside from one or two, I have made the best friends I'll ever have on this site, and in this fandom. I fucking love you all, and I'm sorry that you'll likely never be getting those updates you so wish for. Yet another thing in my life I have fails and try not to think about.
Til Valhalla, stay safe, stay free, and stay metal! Jake(Soon To No Longer Be) The Army Guy out!