Okay, a quick blog here, because I need to ask a question. First off, adorable Applejack: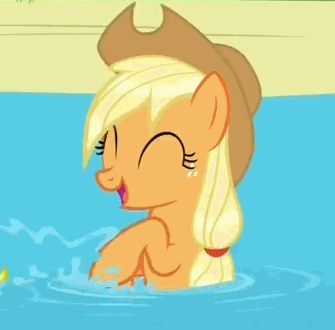 Because there is never a moment that doesn't call for adorable Applejack.
So, if you look at my user page, you'll note that among my Top 5 fics is It Takes A Village. Now, this is not only one of my favorite pony fics, but easily one of the best things I've read, period. Not saying it's some classic of human literature, but it was so much fun to read, had great emotions, funny moments, and even for an obviously Season 1-2 fic, it stands up as a great. It was one of the big inspirations for Finding Your Place, since it pretty much set the standard for "Spike growing up" fics.
Well, the author has another fic called The Jewelry Box. This fic is unfinished, and I just found out today that it likely never will be. Why? Well, a look at the author's Tumblr tells us why.
So, with Bad_Seed_72, that's two great authors that have been run off by supposedly rampant sexism and homophobia, and I gotta say... I just don't see it! Like, for real! Okay, sure, we have a few assholes like RealityCheck on the site, and a few(not all!) fans of that retarded Fall of Equestria story seem suspect, but by and large, I just don't see any of this supposed hate! Hell, even when looking away from the fanfic community, it doesn't add up! At Bronycon, BABScon, Nightmare Nights Dallas, and any convention I've been to, I've seen gays, lesbians, even transgendered people mingling with everyone else and no one seemed to bat an eye. Hell, three or four of the head people at BABScon were transgendered, and no one gave a shit! Oh, and random thought, but when someone is trans, do you call them a "trans male" if they started as a male, or transitioned into one?
With that random thought, you can probably see the issue: I—being a chisest white Christian male pig/oppressor/monster/rapist/whatever—have never had to worry about this, so maybe that's why. So I'm not criticizing or downplaying or mocking when I ask, where is all this supposed hate? I genuinely want to know, because it is apparently costing us some of our best writers. The only place I can think of is /mlp/ on 4chan, which I mean, come on... it's 4chan! Everything about that place sucks! It's like, the infected asshole of the Internet! But on this site, and every other brony site I frequent, I just can't see this.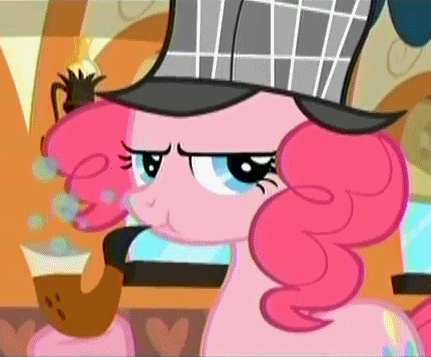 Even Pinkie Pie knows this needs investigating.
So, what's the deal?