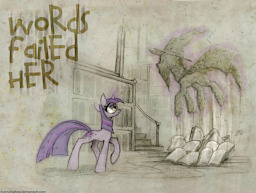 Source
Adventure
Slice of Life
---
In a world full of magic, mere words can pose a deadly threat. When simply reading a sign can instantly infect the unwary, and cases start to turn up all around Ponyville, Twilight Sparkle casts the only spell she can find that can give her the time she needs to find the cause of the plague. But then she has to figure out how to stop the epidemic... without being able to read.
Editing provided by: Spabble
If you like this, try: Rainbow Typhoon
NOW in AUDIOBOOK form at YouTube and for download at SoundCloud.
(Let me know what you think of this production!)