Deep in the dark, three intrepid travelers slogged through the muck.
"Are you sure this is the way?" asked Plum, holding his torch high to keep it from dropping into the puddles at the floor of the stone passage.
"Positive. All the clues lead to this chamber."
"My tail smells weird," said Red.
"It doesn't matter," replied Plum. "Once we get to the end of this journey, nothing else will matter. All will be forgiven."
"Here!" Alex declared, holding his own torch aloft. "Just as the legends said!"
There was a door in front of them, circular and made of several interlocking rings. In the center was a small slot. Wordlessly, Red pulled out a golden quill from his satchel and handed it to Plum, who stuck it into the slot. With the grinding of stone and the restless groaning of thousand year old machinery, the rings wound away from each other, opening into another chamber beyond. Inside was a pedestal, upon which rested three scrolls.
"I don't believe it," whispered Red. "We've found them at last!"
Alex stepped forward and picked up the first scroll, turning around and thrusting it at his companions.
"Gentleman and squirrel," he said, "I present to you this round's reviews!"
ROUND 32:
---
STORY 1
---
RedSquirrel456:
The idea of redemption is one that is crawling all over this fandom and refusing to let go like a pack of remora fish. What about it draws us in? Perhaps it's because in some characters we see things that we do like, even if they are unlikeable in general, and we realize what wonderful people they would be if they just realized that bad part about themselves and fixed it, allowing us to like them without consequence. Trixie is a good example of this trope. Ever since her appearance people have been desperately trying to reform her in every which way imaginable, and only a few have succeeded in a way that didn't involve Trixie snogging Twilight Sparkle for five thousand words. This is one such story.
In the aftermath of Trixie's ignominious defeat in the episode Magic Duel, she is sentenced by Princess Luna to a life of either hard labor or three years in the horrifying dungeons of the Crystal Empire (hoof-waved as belonging to Sombra to avoid any unfortunate implications about Cadance and Shining Armor). And by hard labor, Luna means to try and better herself by becoming the sheriff of the far-away town of Appleloosa. Her new deputy just happens to be the pony everypony's gay for.
It's this guy, in case you didn't know.
This is the setup for a larger story, but the first arc centers around the train trip that Trixie must take to Appleloosa before she takes up her new duties, and is serviceable as a story unto itself. Of course, this is a train going to the Wild West, and if anypony out there is genre savvy they'll know that every train in the West must be hijacked. And this one is. Trixie and Braeburn must muster their courage to fight off the boarders and prove they're a workable duo. The interplay between them isn't quite as impacting as I hoped, but Einhander makes it work, and that's what matters. Somehow Braeburn and his irrepressible goodness is a perfect foil for Trixie's abrasiveness and uncertainty about himself, and it's one of those ideas that makes you jealous you didn't think about it first.
There are some glaring spelling, pacing, and technical errors in this story that may put you off in the first couple of chapters, but the underlying tale is charming and the idea is appealing enough that I sincerely hope the author continues it. There's even visible improvement through all the chapters that lead up to a tidy, yet open-ended conclusion. When and if the author updates again, I think we're looking at the beginning of a wonderful friendship, and a series that could become a rollicking good read.
Professor Plum:
Bronies writing cowboy stories? Talk about Spaghetti Westerns. I'll show myself out
I'm just going to get this out of the way early on, as I feel it might put a number of our regular fans off reading this'un fairly quickly. This story has... less than spectacular mechanics. Missed commas, two-period ellipses, occasional speech problems, the list goes on. It's still legible, however. While it's not going to win any awards for perfect syntax, none of the problems are earth-shattering, and I feel the rest of the story is strong enough to warrant giving this a shot. It's also worth noting that it does improve as the story progresses, but I digress.
Trixie, Appleloosan Sheriff is, as the title would suggest, a tale of Trixie and Braeburn teaming up to defeat the hordes of undead roaming downtown Manehattan. Surrounded, cut off from the world they once knew, their true colours are laid bare, and we get brief a glimpse of the ponies behind the masks...
Ask, and the internet shall provide
Okay, no, not really. Trixie dun goofed majorly, and is made to do some hardcore community service for the town of AAAAAAAAAPLELOOOOSAAAA as part of her punishment. It's either that or spend a year trapped in the pony equivalent of Guantanamo Bay. You may scoff at that comparison, but it seems rather fitting, going by the author's description of the place...
Naturally, shenanigans ensue. I mean, it's the Wild West. It's practically a law that every train must suffer either one hijacking every week, or a bi-weekly damsel being tied to the tracks. And any/all interaction between cowboys must contain more homoerotic overtones than Top Gun, yet never have it mentioned on-screen. Well, except for that one movie...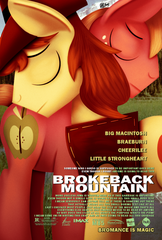 Yes, that movie. Again, thank you internet.
Braeburn and Trixie make for interesting partners, with the pony equivalent of Mr Darcy fanfiction playing the naive idealist to Trixie's well-known brand of snark and self-importance. The duo make the odd, yet endearing couple about whom the story revolves. As of posting these reviews, only the first arc has been released, but it's self-contained enough to stand on its own.
alexmagnet:
"Now," she said, tilting her hat up so she could look her friend in the eyes. "Tell me more about Appleloosa."
In the Equestrian criminal justice system, magically based offenses are considered especially common. In Canterlot, the dedicated detectives who investigate these ordinary felonies are part of an elite squad known as the Magical Crimes Unit. This is not their story.
I somehow came across this while googling "mlp svu". Don't ask me how.
Dated references notwithstanding, Appleloosa Sheriff does actually deal with the criminal justice system of Equestria in a way that I had not seen done before. In fact, I can't say I've ever come across a court trial in a ponyfic. If nothing else, it's interesting for that fact alone. But what really sets this story apart is what happens after the prologue. See, Trixie has been arrested for multiple crimes against Equestria and is being tried by a jury of her peers, and also apparently Luna, and after being declared guilty, she's given a choice. She can either serve three years of hard time in the Crystal Dungeons, or take a job as Appleloosa's new sheriff. If you saw the title of this fic, then you undoubtedly know which option she picks.
What follows is a character study of sorts, one that focuses on Trixie and why she is the way she is, or as some people perceive her to be. Personally, I always thought the whole "Trixie is an irredeemable villain" thing was taking it a bit far. Hell, I never even really thought of her as a villain to begin with. She was just a jerk, end of story. Anyway, one thing I did really like about this fic is that it gives Trixie this sad history, but does it so briefly that it doesn't ask you to feel sorry for her, just presents it as something that happened in her past, thus doing a good job avoiding the "poor Trixie" effect that a lot of fics seem to aim for.
Now, Appleloosa Sheriff is far from perfect in terms of grammar and syntax, but it's got a lot of heart, something that many fics seem to lack. Not to mention, it's got a pretty great train robbery scene that allows us to see Trixie being awesome, which is always good. Oh yeah, and this fic may be incomplete right now, but don't let that bother you. The first "episode" is a self-contained story in and of itself, easily enjoyable on its own.
---
STORY 2
---
RedSquirrel456:
People like to throw around "this is just like an episode of the show!" as a compliment here on FIM Fic. It's been used so many times that the meaning is starting to become diluted for me. And yet, I've found it in my heart to shamelessly plug this fic and use those exact words. This story feels just like something we would see in the actual show canon, and I can say without reservation that it is a strength of this story and its writer to make me feel that way.
The narrative is charming in its simplicity: Twilight Sparkle is stuck on a boat with Applejack and Rainbow Dash after the latter two dragged her out on a fishing trip. While they're out on the boat, things happen. These things are invariably cute, funny, or a disastrous combination of both, as Twilight must contend with Applejack and Rainbow Dash sniping at each other competitively, and also staying on the lookout for the soonest opportunity to jump ship. It's a situation many of us, including me, have been in, and that relatability is just one of many reasons to enjoy this fic. I flashbacked to many awkward car trips and evenings in the college dorm stuck between people I'd rather not have been, and it just made me laugh all the more at poor Twi's predicament. Everything from sticking worms onto fish hooks to finding the best spot to fish becomes an argument, and one moment closer to Twilight losing her mind.
The descriptiveness is good, the characters very much in-character, and the whole thing is just impossible not to recommend. It's silly without being outlandish, it's simple without being dull, and it's pleasing to read. The rest of the mane six make an appearance at the end, with dialogue that is just as chuckle-worthy as the first section. If you want to figure out how to make an adorable, farcical comedy out of an everyday situation, then use this fic as an example.
Professor Plum:
As soon as I saw the title, I knew I was going to love this one.
I've been a fan of Jerome K. Jerome's work for quite some time. In fact, Three Men in a Boat was probably the first non-panto play I ever saw. I loved it, and from the looks of things, so did TheVupineHero1, with this clear homage to that particular story.
The premise of the story is simple. There are Three Mares. They're in a boat. What's written is an account of what follows. Now, we've featured stories "inspired" by real life books before, and there's usually some debate over whether it's merely quote-unquote "ponification" of an existing piece of work, and whether or not the presence of ponies adds anything. Here, you may rest assured that it isn't merely a century-old story with a few names swapped out. While Hero was obviously inspired by Mr. Jerome's work, it really does stand on its own as a story.
Written in the style of an English Gentleman's memoirs, it features a metric buttload of dry wit, deadpan humour, and cutting retorts that would make one drop their monocle. Being a fan of all three, this story has easily skyrocketed its way up my list of all-time favourite stories, either in or outside of Seattle's Angels.
Actual image of the author.
As my bushy-tailed colleague has already pointed out, Three Mares does capture the feel of the TV show we all love really rather well, but provides its own unique twist on it. And hell, I'll upvote any story which features Fluttershy as a crazed blood goddess, to whom the fish present sacrifices to appease her wrath.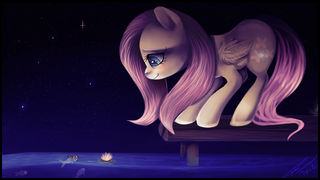 You're next
alexmagnet:
Okay, so normally I put up a quote as my opening sentence of a review. Usually that quote encapsulates the story in some way, or captures the tone, or is just particularly funny to me, but for this fic, the whole damn thing is just a mess of awesome quotes. So many were there, in fact, that I had a really hard time coming up with just one to use. In the end, I decided to go with the very last sentences of the fic.
Then sex happened. The end.
So, with that out of the way, let's get into this review. Three Mares in a Boat is beautifully simplistic. As described by the author, it is: "a silly, purile, pointless story. It's bad, and I should feel bad." And yet, at the same time, it's an incredibly entertaining story loaded with comedy and glorious subtext. However, TheVulpineHero1 is wrong about one thing, though. This is not a pointless story. No, it's in fact a nice little parable about learning to let go of arguments. Without really stating it outright, it makes the point that you should simply enjoy the time you spend with your friends instead of argue about little meaningless things. It's a nice little lesson and one that I think a lot of people, myself included, should really take to heart.
But enough about all that serious stuff. The real draw of this story is the comedy. It's dry, complex, and needlessly silly, a bonafide perfect storm in my book. George Clooney woulda been proud. As a fair warning, this humor may not be for everyone, but it sure as hell is for me. I found myself laughing out loud more than once at particular lines, and giggling like a prepubescent girl at others. I can say with absolutely some exaggeration, that it's for fics like this alone that I've stayed with this whole ponefic thing as long as I have. Every time I read some silly story about Twilight contemplating worm murder, or Pinkie Pie flying to the moon, I feel just a little bit happier about this whole endeavor, and if I can share that feeling with you guys, then so much the better.
For the love all things humorous, go read this story.
---
STORY 3
---
RedSquirrel456:
There comes a time in everypony's life when everything changes. Up is down, family becomes foe, and ponies are coupling with buffalo in the streets. The Pit is one such tale, though with none of the hilarious interspecies ribaldry. This story has only one tag, sad, and it earns it. It earns it hard. This story deals with a hard-hitting, realistic moment of sorrow and upheaval and shows us how Rarity and Applejack, the unfortunates stranded in said tragedy, deal with it. There's no epic quest to fix what happened, no attempt to tell us what happened before or after. There's only the moment, only the remorse and regret. There is only "the pit."
But as suffocating as the scope of the story is, the emotional breadth is something else entirely. Applejack and Rarity are stuck in a hole in the ground, slowly suffocating to death and dealing with the loneliness, frustration, and ominous inevitability of being stuck in a terrible place with no way out. They deal with it in their own unique ways, and these methods seem completely in character for the both of them, which makes the story all the more poignant and heartrending. These aren't just a couple random characters stuck in a hole, these are actually Rarity and Applejack stuck in a hole, and we can't do anything but sit there and be stuck with them. Whether or not they die isn't a spoiler, so I have no qualms with saying they do get out. Being faced with death is just one part of the emotional spectrum Rarity and AJ go through, and is only one part of the story. This is not a tale about death and endings, but a story of enduring when it looks like death is the only option.
With no grammar, spelling, or other niggling errors, I can only complain that this story may have been a little too short. If the author wanted, he could have wrung as much trauma out of this as he wanted and I wouldn't have complained. Maybe thrown in a flashback or two. But these are stylistic choices, and it's no mistake that the story doesn't overstay its welcome. Read this story. You won't be emotionally crushed, I promise, but you will be taken for a roller coaster ride in the dark, with no way of preparing for what's next except to cling to hope it's better than what happened before.
Professor Plum:
There's not an awful lot that can be said about The Pit. With the plot boiling down to "AJ and Rarity get trapped in a rock slide", it's not a particularly complex story, and at just over six thousand words, it's not a very long one, either. What it is, is sad. With two close friends trapped together, facing their impending doom, you do get some nice interactions. People tend to show their true colours, when faced with their last chance to be themselves
Honestly, I just wanted an excuse to post this image again.
No fic is perfect, however, and one criticism I would level at this story is it doesn't quite explore far enough for me to feel completely satisfied. One thing the comments mention that I can't disagree with is that it might appear to be trying too hard, possibly to do with aforementioned brevity. If you're a massive sadfic junky, then the attempts to tug on the heartstrings might come across as a bit clumsy.
"So the emotional stuff feels a bit clumsy. No time for niceties, just gouge that chest cavity open and jam away at the heartstrings like a heavy metal guitarists whose hands have gone to sleep" ~ Yahtzee Croshaw
However, the plot itself wasn't what drew me in to this story; it was the characters. As with Trixie: Appleloosan Sheriff, the two main characters were the highlight of this particular read. Rarity and Applejack have a synergy that I can't help but love, be it in the show or on our humble site. The juxtaposition of AJ's down-to-earth simplicity with Rarity's layers of social acceptability is something I don't think I'll ever tire of reading, and here we get a new take on it, as both are faced with the possibility of not returning home. Not bad at all.
alexmagnet:
"I mean... it could be worse..."
Famous last words...
The Pit is a lot of things. It's heartfelt, it's heartbreaking, and it's heartwarming. Emotions swirl around this fic like a shark circling a life boat, just waiting for you to dip your hand in the water. There were some criticisms against this fic that it was trying too hard to make you feel sad, and that may be somewhat true. But to its credit, it managed to elicit that emotion from me with minimal effort. As someone who rarely feels any emotion, other than happiness, while reading ponefics, it's impressive to say the least.
Me, after reading The Pit.
In its short, but powerful, 6k, The Pit manages to tell a concise story about friendship, perseverance, and later, acceptance. After Rarity and Applejack get caught in a rock slide, they share some intimate moments and eventually come to accept their fate, whatever it may be. Besides all this though, the thing I really admired this fic was how well the characters were written. Both Rarity and Applejack feel very much in-character, and, brief though their appearance may be, Rainbow, Pinkie, and Fluttershy also feel right at home.
Honestly, I'm having trouble finding more good things to say about this fic. The fact that it does [Sad] well, should really be enough for anyone though. I mean, that in itself is such a rare thing that it's worth trumpeting on for that alone. So yeah, if for no other reason than to see an actually sad story, go read The Pit. It's short, sweet, and you won't regret it. Y'know... unless you hate things that are good.
---
"So," said Plum. "That was a bit anti-climactic."
"I agree," said Alex. "I was expecting more hordes of demons or pillars of light coming down. I mean, the cave didn't even collapse."
"It is a very small cave," supplied Plum.
"And yet we've waited so long for this moment," said Red, rubbing his fuzzy chin. "Maybe we're missing one?"
"No, we got them all," said Alex, looking over the scrolls, turning them this way and that. "Maybe we just had one upside down."
"Well, nothing to do now except wait for the next round of prophecies," muttered Plum, kicking a cave roach across the room.
"I can't wait to get back to the space station," replied Alex. "I'm going to need a week long shower."
Red just took one of the scrolls and began drying off his tail with it. "Well," he said with a shrug, "on to the next one!"