It's what moves you.
So I've done a lot of these military blogs but never really talked about how all this hardware gets around. Time to fix that.
With style, of course.
When I say "engine" you probably think of a car. That's a good place to start. Here's a .gif of a typical four-cycle (or four-stroke, if you prefer) gasoline engine. A four-cycle engine can be called an Otto Cycle, after the guy that invented it.
1=intake 2=compression 3=power 4=exhaust
Air and a vapor of fuel are drawn into the cylinder during the intake stroke. The compression stroke compresses the mixture. The sparkplug fires, igniting the fuel and driving the piston down for the power stroke. The exhaust stroke pushes the spent gases out of the cylinder so the cycle can begin again.
Fun Fact: Diesel cycle was named after a guy named Diesel. Yes, they do typically burn diesel fuel, but it's the engine design itself that makes it a Diesel, or an Otto, or something else.
Diesel engines have the same four strokes, but a slightly different process. Gasoline engines typically compress the fuel and air to an average of about eight times atmospheric pressure. Diesels only intake air into the cylinder and they compress it to about eighteen times atmospheric pressure. Under that much compression the air gets super hot. In a diesel, instead of a sparkplug firing, they have fuel injected. When the fuel is injected into the hot air, it spontaneously combusts. Yes, this means diesels require fewer electronics but have to be built stronger to handle the pressure.
Fun fact:

1=intake 2=compression 3=power 4=exhaust

1=suck 2=squeeze 3=bang 4=blow
Another kind of piston engine is the two-stroke.
The intake and compression strokes are combined, and the power and exhaust strokes are combined.
The two-stroke is less fuel efficient but a simpler design. They are generally for small engines like chainsaws or dirt bikes. You'll occasionally also find them in very large diesels, like in ships.
In the above picture of a two-stroke, you'll notice that the intake fuel and air have to pass around the bottom of the piston. This is why many two-strokes require oil to be added to the fuel, to keep things lubricated.
Most piston engines have more than one cylinder per engine. Sometimes they're in a line, sometimes they're arranged in a V, sometimes they're flat.
Cutaway showing a V-8.
Sometimes in airplanes they're arranged in a radial.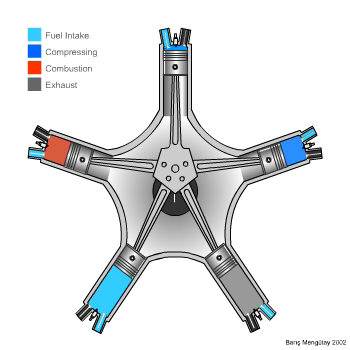 Another fun engine is the rotary.
You'll generally only see these in certain models of Mazda cars. Their main advantage is fewer parts and higher RPM.
Fun Fact: The rotary engine was invented by a guy named Wankel. Yep, Wankel cycle.
So we've covered the basics of reciprocating engines. There are a few things that you can do to increase performance. Superchargers and turbochargers are common on diesels and some higher-performance gasoline engines. Both are pumps that blow more air into the engine. More air means you can burn more fuel and get more power. A supercharger is driven by a belt. A turbocharger is driven by the exhaust gases.
Fun Fact: The Fast and the Furious has lied to you so much. Nitrous will make your car go faster, but it doesn't explode. It's not even flammable. It's merely an oxygen carrying substance. Like previously noted: more air + more fuel = more power.
The one thing that all these engines have in common is the crankshaft. This is the rotating shaft that all the pistons are connected to. It provides the force to drive the vehicle.
If you're dealing with a ground vehicle, the force probably goes through a transmission and on to the axles. The transmission has gears, which let the wheels turn at different speeds than the engine.
Basic rear wheel drive system. Front wheel drive cars, which are more common, have the engine and transmission packaged together and driving the front tires. Trucks tend to be rear wheel drive. Four wheel drive has more parts.
Some vehicles have the engine drive a generator, which produces electricity to drive electric motors. Automobile manufacturers like to call these hybrids and make a big deal out of them. Meanwhile, trains have been using this technology for decades.
So let's move on to another common kind of engine: the turbine! (Pronounced the same as "turban.")
Luuuuuuuulz
A turbine is a name for a windmill, basically. It has blades that get spun by moving air.
The air can come from another source, like wind in a windmill turbine, or steam generated in a power plant steam turbine. Or, the turbine engine can generate it internally:
The turbine section is the part that is being driven, thereby turning the blades in the rest of the engine through the central, rotating shaft. This is just like the crankshaft in the piston engines. And just like piston engines- intake, compression, combustion, exhaust.
Turbines engines power many modern warships and almost all military helicopters. The M1 Abrams tank even has a turbine engine. You get power out of a turbine through the shaft. Turbines tend to spin at very high speeds, so big gears are used to slow them down. This creates a bigger mechanical advantage, thereby seeming like more power – just like you gearing down on your bike.
An example of four engines (green boxes) driving two propeller shafts through gears.
The biggest use of turbines, however, is aviation. With airplanes, you can put a propeller on the shaft of a turbine engine to turn it into a turboprop. Or, you can just skip the propeller and make a whole lot of air go out the turbine's exhaust - a jet engine.
Some jets have afterburners, which shoot fuel into the hot exhaust, and the resulting combustion gives the engine an extra boost. It's not very fuel efficient, though.
Most jet engines these days are turbofans, that flow a lot of air around the main body of the engine. That is why commercial jets have such large-looking engines. Fighter jets have them too, but not to the same extent.
Turbofan
Let's take a step back and talk about external combustion turbines. For example, boilers in older ships are burning fuel to boil water for steam to drive the turbines, which then turn the propellers and electrical generators.
The condenser cools the steam back into water. The water is pumped back into the boiler to be reheated into steam. And thus the steam cycle goes.
Nuclear propulsion is just like the basic steam cycle, except you're using a nuclear reactor to generate heat instead of a boiler.
Advanced jet engines:
(a) The jet engine we covered earlier.
(b) The ramjet. At supersonic speeds, its nosecone slows down the incoming air so it can be combusted.
(c) The scramjet. The air goes through it supersonic all the way.
Because of their design, ramjets and scramjets can only be used at supersonic speeds. The famous SR-71 Blackbird used engines that used regular jets to go supersonic and ramjets to take over from there. Ramjets work best as speeds up to Mach 6. Scramjets can go faster than that.
NASA's X-43, using a scramjet to go Mach 9.65, making it the fastest air-breathing vehicle in the world.
So what's faster than that? Rockets.
Burn, baby, burn.
A rocket is technically defined as a motor that creates propulsion by using pressure to push against something. The water bottles you may have launched in science class count. More impressive are rockets the burn fuel, like the lovely Saturn V.
Rockets come in solid and liquid fuel varieties. Solid fuel rockets, once ignited, can't be shut off. Liquid fuel rockets can be accelerated or decelerated just like anything else with a throttle.
Fun Fact: We actually are very good at building rocket nozzles for maximum thrust efficiency. The problem is materials: we can't build more powerful rockets until we come up with something with a higher melting temperature.
And that brings us to fuel. You're probably familiar with gasoline. When refining crude oil into the stuff you buy at the pump, a lot of other products are also created.
If you're into chemistry, the C numbers are the carbon chains. Vapors like propane (C3) come off the top. Heavier stuff is down below.
Fun Fact: Kerosene, jet fuel, and diesel are all pretty similar. I wouldn't recommend putting kerosene or jet fuel into your diesel engine because they are lighter fuels and don't lubricate as much, but it shouldn't immediately hurt anything.
So as we draw this blog to a close, you probably noticed a few recurring themes:
Cycles and hot gasses are important. Engines are basically all about the flow of heat.
There, I reduced every Thermodynamics class ever into two sentences.
So think about all of this the next time you get in the car.