Because the birthday post is no longer even remotely relevant, this post now exists. And it will be filled by nothing but a random, disjointed, rambling mess about any topic that I can think of.
I guess the most relevant topic at the moment is the most recent pony episode. Which was good, I guess. Very Jones-esque. But Twilight pronounced Quezalcoatl wrong. The "a" isn't silent. Every letter is pronounced. That is unforgivable.
Speaking of Aztec gods, Montezuma II originally thought that Hernan Cortez was Quezalcoatl, and had come to destroy them all. Which, I guess was sort of right. Except instead of a heavenly scourge, he used smallpox. And gunpowder.
Well, this is disappointing. I'm already running out of stuff to ramble about. Uh... still looking for a temporary editor, but seeing as my progress on my written stuff has been next to zero recently, it's probably not that urgent. Also doing a three-heart run of Twilight Princess. Not sure how that's relevant at all. It may end up becoming a four of five heart run if I keep accidentally finding Heart Pieces.
Also thinking of messing around with animation/editing a bit. My recent forays into Flash have been encouraging, but time-consuming, and I'm not certain I'm willing to devote the necessary time to it. We'll see.
Since I've run out of stuff to talk about, I'm just going to leave with something that'll be incredibly annoying (for me) to look at.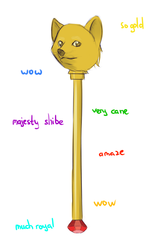 Seriously, can we make these two memes stop? Please?