I can't even.
Hooves-down best episode.
Spoilers obviously, if you're lazy and haven't watched the most awesome episode ever, but:
Motherfucking princess bickering. Epic. We only ever saw them as composed rulers, and now that they've bickered like regular ponies they're more relatable and at least a little bit less... ethereal! They are capable of actual emotions!
Secret agent Sweetie Drops? Wat.
Gummi having existential thoughts.
Can't forget the Octavia/Vinyl moments. Vinyl strutting down the street being awesome and sexy.
And of course
A MOTHERFUCKING CHANGELING AT THE WEDDING.
Are you goddamn kidding me?! I feel like I owe someone money for all of that fan service shoved into such a short period of time.
And Derpy spoke, not just one line, like, the entire goddamn episode, which is amazeballs because after the drama, I didn't expect her to be given any lines ever again.
Just. Wow.
If I was a fan of doctor who I'd probably have to have a mental breakdown at the sheer 'how is this even happening?!'ness of that episode.
But guys, guys. Changelings in ponyville are canon now. Nopony was even freaking out! GLORIOUS VICTORY!
CHANGELING EMPIRE FOREVER!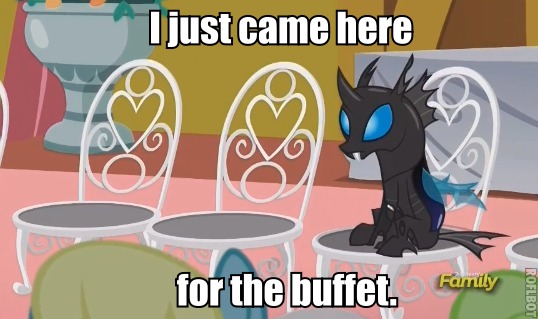 P.S. Someone will bandwagon 'secret agent sweetie drop' and will be in the feature box within three days, minimum. Feel free to congratulate me when I'm right!