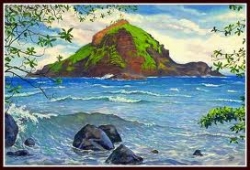 Gore
Adventure
Dark
---
Book 1: A magic obsessed pegasus finds himself in over his head after being assigned to a cartographical expedition to distant islands. Armed with only his knowledge of an obscure branch of magic, and tenuous relationships with his coworkers, he must learn to survive in a hostile tropical jungle.
Book 2: After a perilous journey back to Equestria, Roads, Summer, and Chief find themselves trapped at the heart of a nation-wide conspiracy when one of their discoveries from the island draws attention from an enigmatic cult. As they seek to uncover the mysteries that surround them, the trio find themselves neck-deep in necromancy, shamanism, and the deadly repercussions of Chief's violent past.
Book 3: Spurred by the revelations uncovered during the attack on Ponyville, Roads and Summer travel into the heart of the desert south of Equestria to prevent the impending cataclysm that threatens everything they hold dear. Even with all they have learned in their struggles with the island and the cult, they still struggle to survive in the face of harsh sands, and harsher foes.