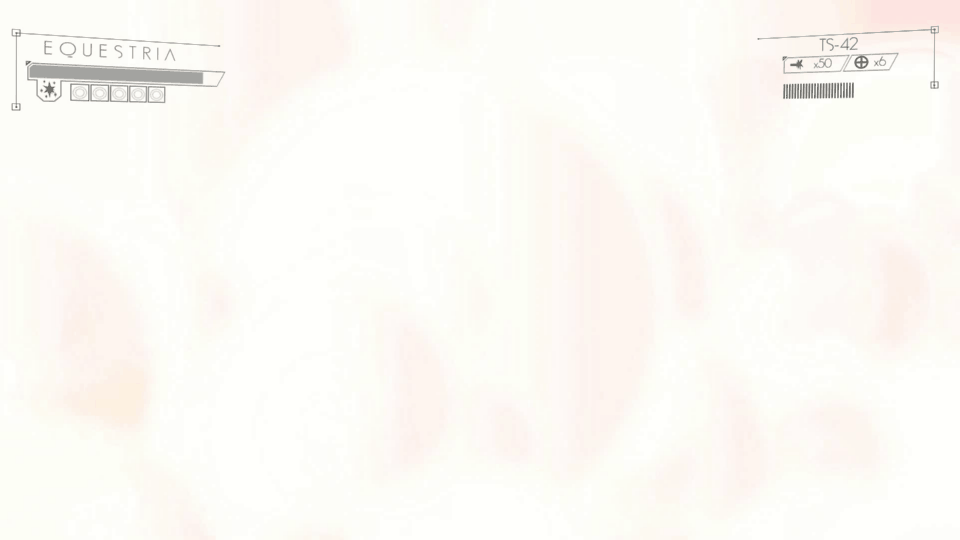 No Man's Sky has been getting some pretty tough reviews. People are calling it "boring," "empty," "buggy," "unengaging," and other worse things. They say there's a lack of content, that the controls are clunky, etc. But I think they're just not looking at it right. You see, the game makes way more sense -- and for me at least, is far more fun -- if you just make one simplifying assumption.
Your ship's autopilot assist is actually Sweetie Belle.
****
"Alright, there's the escape pod," Rarity said, eyeing their intended destination through the dirty canopy. She coudln't see it for very long. The cockpit was top-mounted on a wide chassis, and so when they got close to the target site, it vanished beneath the curve of the hull. But that was what sensors were for, and the location waypoint hovered somewhere between her forehooves. "Set us down, would you, Sweetie?"
"Sorry, Rarity!" the control panel chirped. "The landing site is not clear."
"Sweetie, darling." Rarity sighed and rubbed her temples. "I observed that site as we approached. There's no obstructions there larger than a pebble."
"There's a..." She paused. "Space thingy under us. Like a fern."
"And that's a problem because?" Rarity struggled and failed to keep the naked irritation out her voice. "Land on top of it."
"I'm not crushing the nice space fern."
"It's a fern!" Rarity's tail lashed inside her suit. "Land, Sweetie!"
"No!" The radio crackled. "I'm not crushing the nice fern! It's not even a fern, it's a space fern! It could be sapient. You don't know! It could be a living space thing with little fern babies and -- oh, wait, nevermind. We drifted to the left and now the landing zone is clear."
Rarity took a series of slow breaths, her suit's life support system warning her of a spike in her blood pressure as the ship slowly touched down.
****
Lock-on alarms flashed through the cockpit, a high-pitched wail filling Rarity's ears. The ship shook with the force of its sublight drives, burning hard as it tried to get away from the combat zone. Rarity couldn't see the five enemy pursuers, but she could see their plasma bolts racing around her. A hard spin had thrown them off for now, but with no iron in reserve and no hope of outrunning them to jump-drive, her luck couldn't last forever.
"Here's a trick you can't do..." she growled to herself, ducking her ship in close to the planet. Staying just above the atmosphere, she forced the pursuing ships into an erratic course, ducking, spinning, burning and weaving around them as she evaded their fire. Their superior speed was useless in such tight quarters, forcing them to engage her on even terms.
"Hey, are we aerobraking?" Sweetie Belle asked. "Because you're near an atmosphere! Want help reentering?"
"No! NO! Sweetie!" Rarity screamed, yanking back hard on the stick. But control was no longer hers, and the nose pointed down towards the gravity well below. "Sweetie! Pull up! Pull up! We are still spinning you can't do that in an atmosphere!"
The deep boom of acceleration warnings joined the high squeal of combat alarms as Rarity's ship plummeted into the atmosphere below. Rarity's view spun like a top, and nausea rose within her as she struggled to right herself. She could hear the roar of the reentry flames, see the fire around her ship, but the world was a blur. There was sky, there was ground, there was sea, there was earth. She didn't know what was up or down or which way the ship was pointing, and with every twist, acceleration slammed her hard into the side of the cockpit.
Desperate, she reached a hoof up and pulled the throttle back hard, killing power to the jets. The ships tumbling course turned to a slower, lazy spin, as its course turned ballistic. Now, Rarity could see. She could see the ground. She grabbed the stick, and pulled back hard, jamming her hoof against the throttle. The engines roared, and slowly, the ship's course steadied out. It drifted to a halt, scorched shot and burned, about fifteen feet above the ground. Upside down.
"Hey! We're near the ground!" Sweetie Belle said. "Want help landing?"
****
"Alright, Sweetie. Take us in," Rarity said, drawing a slow, deep breath. When there was no combat, no danger, and no particular point they needed to reach quickly, Sweetie Belle was a perfectly competent autopilot. And that, Rarity reflected, was something. It meant that, for simple planetary discoveries, all she really had to do was sit back and watch as the flames of aerobraking rushed around the nose of her ship.
And such a beautiful planet it was they'd discovered! The skies were burnt red, the plants a rich blue, and fields of purple crystals sparkled under the light of a distant sun. It was like an abstract painting, done in all the wrong colors, and all the richer for it.
"Alright, Sweetie, touch us down," Rarity said, feeling a little bit better about the whole thing. Their landing gear touched earth, near a large, commanding rock formation. "What's the scanner say?"
"Looks like..." Sweetie mulled it over, as her sensors read the rocks and tasted the air. "This planet's traits are: Highly Radioactive, Extremes of Heat (100+ C), Extremes of Cold (-80+ C), Solar-Triggered Planet-Wide Storms, Acidic Atmosphere, Toxic Atmosphere, Aggressive Flora, Aggressive Fauna, Renegade Sentinels, Geologically Unstable."
Rarity considered that. "Take off, Sweetie Belle. Quickly now."
"But we just got here!" Sweetie insisted. "Look, there's a cave system just a few hundred meters away. I bet it's full of treasure! You should go explore while I wait here."